UVA's Naming and Memorial Committee was created earlier this February in an effort to re-contextualize and acknowledge the University's history. There was a town hall at the end of April to hear students' and community leaders' thoughts on renaming versus completely removing the Hume Memorial, commonly known as the Whispering Wall. 
Students advocated for the complete removal, while some argued for a re-dedication, similar to past efforts. This is also tied to UVA's effort to create new memorials, such as the one for Enslaved Laborers, and for digital contextualization through QR codes. 
Many of UVA's monuments, statues, and names of buildings highlight confederate soldiers and eugenicists. In recent years, there has been progress in re-dedicating these. In 2016, the medical school, previously named after a eugenicist and former dean, was renamed Pinn Hall to honor Vivian Pinn, a prominent physician and the second African-American woman to graduate from UVA's School of Medicine in 1967.
Before the creation of this committee, there had already been a push to rename the Curry School of Education to the "University of Virginia School of Education and Human Development", as well as to rename Ruffner Hall to Ridley Hall to commemorate Walter N. Ridley, a graduate of the UVA School of Education and the first African American to receive a doctoral degree from UVA.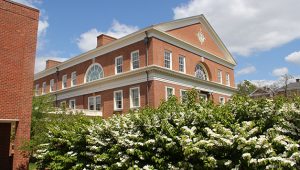 Efforts to re-name and re-contextualize UVA's history and buildings were previously under the Racial and Equity Task Force created in June 2020. This included renaming the education and law schools, as well as naming a new dorm after Julian Bond, a UVA professor and civil rights leader. The remaining September recommendations of this task force were picked up by the newly created Naming and Memorial Committee.
Early this year, two committees were formed to review the naming and memorials on Grounds.
"Free expression and free inquiry are the lifeblood of universities; these principles underpin this University's educational missions of producing knowledge, developing citizen leaders, and serving," said UVA provost Liz Magill of the committees' formation. 
In addition to the Alderman Library and Hume Memorial, the committee is also reviewing the Jefferson statue, which has a complex history and role both within UVA and in the Charlottesville community.
"White supremacy was so mainstream, especially in Alderman's milieu, that nobody would have thought twice about using the term. Indeed, it would have been a tremendous scandal if Alderman had been a secret integrationist or even an egalitarian."
– Sarah Milov, assistant history professor at UVA
In addition to re-naming and building new memorials, the Naming and Memorials Committee also concluded that digital contextualization of the University's statues and memorials will "help visitors and residents alike make new connections and perceive the history of UVA, and of the U.S., with greater capaciousness, nuance, and complexity". 
With support from the University Board of Visitors (BOV), the Committee Report recommended that President Ryan commission "a working group to convene professional historians, students, local residents, and alumni with relevant expertise, to work collaboratively to design and produce a dynamic and evolving history of the Grounds open to new historiographical trends and the insights of new archival research".
On UVA's reckoning with its history, co-chair of the President's Commission on UVA in the Age of Segregation Kirt von Daacke said, "[The Commission] will continue the work of coming to terms with the difficult aspects of the university's past."