After signing a 20-year, $1.6 million lease in order to utilize the space on top of Ruffner Hall and the UVa bookstore, Dominion Power has announced the first phase of their plan in building a solar array at UVa.
The energy generated by the 452-kilowatt system is projected to be enough to power about 91 homes. This energy will be sent back into the local power grid.
UVa's involvement in Dominion's Solar Partnership Program illustrates the university's growing emphasis on sustainability, and follows school-wide changes like improving university recycling, using locally-sourced food in the dining halls, and switching to biodiesel fuel on buses.
The university's investments in Delta Force, its sustainability program, also highlights UVa's growing commitment to sustainability. Since 2008, about $8.7 million has been invested into the Delta Force Program, and this has saved the school about $22 million in energy costs according to Colette Sheehy, UVa's Vice President of Operations. The organization has been able to reduce energy use in over 37 UVa facilities.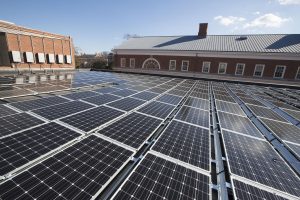 According to Sathish Anabathula, Associate Director for power and light in UVa's Utilities Office, the partnership with Dominion allows UVa to move towards more sustainable sources of energy at a much more affordable cost. UVa is one of ten places where Dominion is looking to create solar arrays.
Robert Blue, President of Dominion Virginia Power and UVa alum ('89), also noted at a university press conference that Dominion plans to increase solar capacity from the program over the coming years so that the company can continue to test and expand the production of solar-based power in Virginia.
The solar array represents a groundbreaking commitment for UVa towards long-term sustainability, and according to Sheehy fits into UVa's five-year sustainability plan which includes 23 different goals for the university.
The initial solar array is set to be completed by the end of the year, and is set for another expansion in early 2017.