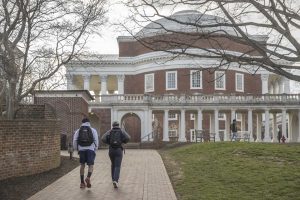 In an update to students delivered by email on April 1, University administrators explained their plans to resume in-person residential, educational, and research experiences from the beginning of the Fall 2021 semester. While the COVID-19 pandemic disrupted almost every aspect of on-Grounds life starting in March 2020, University President Jim Ryan — joined by Provost Liz Magill and Chief Operating Officer JJ Davis — announced that in-classroom instruction will return for students and faculty, and all University officials will proceed with more-normal operations in areas like housing, dining, libraries, recreation, and transportation.
Ryan and his team expressed hope and optimism for the fall, while reminding students that all plans will be contingent upon public health.
"The default mode of instruction will return to in-person for faculty and undergraduate, graduate, and professional students in the Fall of 2021," the administration's message read. "The default assumption will be that faculty will be in the classroom, first-year students will be in our residence halls, and students will be in Charlottesville — all prepared to arrive in their classrooms at the appointed hour. Exceptions for students — for instance, international students — with unique travel limitations or health concerns will be evaluated on a case-by-case basis."
Marking "the final lap" of an academic year changed dramatically by COVID-19, the University team highlighted operations that will return to normalcy at least somewhat in the future.
"We plan for full opening of libraries, as well as IM-Rec, dining, and student activities facilities in the fall semester," Ryan, Magill, and Davis continued. "University Transit Services (UTS) routes and schedules will be announced in August. All will continue to follow the public health protocols and University policies public health experts determine to be necessary at that time … If viral prevalence and vaccination rates are consistent with our expectations, we expect to be able to reduce restrictions on gatherings, visitors, and travel significantly for the fall semester. We will also continue to follow public health guidance on matters such as masking, physical distancing, and gathering sizes. University public health experts will continue to monitor public health metrics and to use data to make decisions about restrictions. We will update the community on those protocols no later than July 15, 2021."
University leaders also commented that some effects of the past year will endure beyond the pandemic, promising a continuous discussion.
"The UVA community's response to the pandemic has produced many innovations in how we conduct the University's business — from teaching, to working, to research, to operations," they wrote. "Many individuals across Grounds are working to capture lessons and new practices that could continue to benefit the University, our workforce, and our students going forward. We will provide additional updates as that process continues, including more guidance for managers and employees about returning to work safely and the future of work at UVA, post-pandemic."
Acknowledging that some community members might have expected to receive a precise list of guidelines for what to expect, Ryan, Magill, and Davis explained that constantly-changing public health data renders specificity difficult at this time.
"We recognize that this update does not contain specific details on many important issues, most of which are still being resolved in light of changing pandemic conditions," they wrote. "We will update you over the coming weeks and months as additional decisions are made about how the fall semester will operate. The latest information and relevant FAQ's are always available at coronavirus.virginia.edu."
Another update on Final Exercises for the Class of 2021 is scheduled for April 2, with further messages to come from the University administration detailing what returning students can expect for their fall semester.
For up-to-date numbers on the spread of COVID-19 at UVA, click here.