Entertainment and Culture
It is that time of the year again when UVa students' stress levels are reaching all-time highs because of midterm season and increasingly difficult course...
Most college students rely on caffeine to start their day so having a coffee shop with as much character as Grit is warmly welcomed...
Hear how Jewish students at the University are reacting to anti-semitic vandalism at the off-Grounds student residence, Grandmarc. https://vimeo.com/188753554
https://www.youtube.com/watch?v=aYuYvL9spKQ
Charlottesville
clear sky The Virginia field hockey team faced a tough 2-0 loss to No. 14 Delaware this Sunday. Ranked No. 5 in their conference, Virginia was...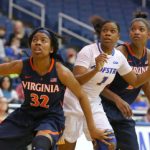 Hempstead, N.Y. – The Virginia women's basketball team (18-16, 6-10 ACC) fell late to Hofstra (25-8, 13-5 CAA) in the Round of 16 of the... Last week, I had the opportunity to speak with PJ Harris, co-founder of the Totem app. A law student at the University of Virginia,...
https://vimeo.com/186219289 After the UVa College Republicans voted to endorse Donald Trump in a 67-63 vote, we dug deeper to find out why.