UVa baseball coach Brian O'Connor announced Monday that weekend starting pitcher Evan Sperling is out indefinitely with a sprained forearm. The third-year righty was slotted as the Sunday starter for the Hoos, and did not pitch in the team's Sunday loss at Miami. Instead, Charlottesville native and second year Bobby Nicholson got the ball. He pitched one and a third innings, allowing 3 hits, 4 runs (2 earned), and 1 walk and took the loss as Virginia fell 8-1 to the Hurricanes. The team was swept for the first time on the road in the ACC since 2015 and is now 13-10, 3-6 ACC on the season.
The team will be back on the diamond to face Longwood and VCU in the midweek games, and they travel to Pittsburgh for this weekend's series against the Panthers. Coach O'Connor also announced that he plans to keep Nicholson as the Sunday starter for the Pittsburgh series, adding him to a weekend rotation that also features fourth-year righty Derek Casey and third-year lefty Daniel Lynch.

On a more dim note, this is just another addition to the list of setbacks for the team this season. After previously losing Cam Simmons, the everyday right fielder from a year ago, to season-ending shoulder surgery, fellow outfielder and pre-season All-American Jake McCarthy suffered a wrist injury against Davidson in early March. He is expected to miss three or four more weeks. Prior to his injury, McCarthy lead the team in stolen bases (8) as well as runs scored (14), and was batting .314 (16-51).
However, UVa baseball and coach O'Connor are no strangers to injuries. The 2015 national title team overcame significant adversity throughout their incredible title run. This included injuries to pitching staff ace Nathan Kirby and eventual fifth-round draft pick Joe McCarthy. Because of these injuries, fans got to witness the emergence of top-ten draft picks Pavin Smith and Adam Haseley, as well as fourth-round draft pick Ernie Clement.
A team that had to go on a run at the end of the regular season just to make the ACC tournament, as well as the NCAA tournament, came out of Omaha as national champions. Now, first years such as Tanner Morris, Alex Tappen, and Devin Ortiz have an opportunity to make a mark early in their college careers, and maybe even bring home a little hardware of their own.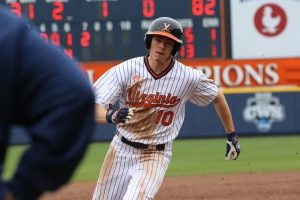 There is no need for Wahoo fans to hit the panic button. As we eagerly await the return of Jake McCarthy and hopefully Evan Sperling, we can watch the growth of first years ready to make their mark. UVa has yet to miss an NCAA tournament since the arrival of skipper Brian O'Connor, and don't anticipate this season to be any different – this team will find its rhythm and win plenty of baseball games.