Tuesday morning, Virginia State Vaccination Coordinator Dr. Danny Avula announced the state will pause all Johnson & Johnson (J&J) vaccinations as federal health officials investigate reports of blood clots in six women who received the vaccine.
Following new guidance from the federal government, Virginia will temporarily pause all use of the Johnson & Johnson vaccine until the @CDCgov and @US_FDA investigation is complete.

Read the full statement from @VDHgov: https://t.co/GJryUwyQjT

— Governor Ralph Northam (@GovernorVA) April 13, 2021
Over 6.8 million doses of the vaccine have been administered nationally, largely with mild or no side effects.
"This pause is reassuring in that it demonstrates that the systems that are in place to monitor vaccine safety are working," Dr. Avula said.
In a press conference Monday, the Blue Ridge Health District (BRHD) announced it did not receive additional doses of the J&J vaccine from the Virginia Department of Health (VDH) this week.
The number of J&J doses in Virginia had already dropped from 124,000 last week to 15,000 this week due to manufacturing issues.
"Universities will still have the option of doing the two-dose regimen with either Pfizer and Moderna," said BRHD director Dr. Denise Bonds of the shortage.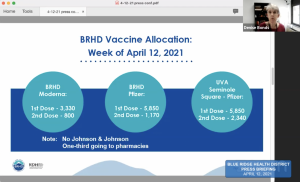 The pause in J&J vaccine distribution follows UVA's announcement that all University students will be able to schedule their vaccinations in Charlottesville starting Monday, as BRHD enters phase 2 of vaccine distribution this week.
Students who sign up using their personalized email link will receive either the Moderna, Pfizer, or J&J vaccine. They will not be given a choice of which vaccine to receive.
As of Monday, students were still receiving J&J vaccines from last week's allotment.
"People who have received the Johnson & Johnson vaccine who develop severe headache, abdominal pain, leg pain, or shortness of breath within three weeks after vaccination should contact their health care provider or call 911 if it is a medical emergency," concluded Dr. Avula in his statement. 
The full statement from the VDH can be found here.