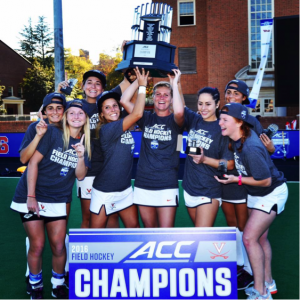 The Virginia field hockey team returned from Wake Forest's Kentner Stadium Sunday with something they have never had before: an ACC Championship.
In an exciting and well-earned victory, the Cavaliers defeated the UNC Tar Heels 4-2 Sunday afternoon to finally clinch the elusive ACC championship title.
This win is credited to the Hoos' incredible team dynamic on the field as well as their aggressive press that placed a ton of pressure on the Tar Heel's defense, continually forcing them to the outside.
The first sight of victory came with freshman, Erin Shanahan's goal eight minutes into the first half. The Tar Heels came back hard with a goal twelve minutes before halftime. Virginia sophomore, Izzy McDonough regained the lead for the Cavaliers four minutes later.
With a 2-1 lead at the half, the Cavaliers remained strong as freshman, Anzel Viljoen, scored off a corner play to extend the Virginia lead, 3-1. The Tar Heels refused to give up the fight, however, as Lauren Moyer scored with just under ten minutes remaining. Two minutes later, senior Lucy Hyams finalized the win for the Wahoos with a 4-2 lead.
When the clock hit zero the team rushed the field as feelings of excitement and success swept over the Cavaliers. All of their hard work finally paid off.
This win was extremely deserved. They arrived at the tournament Thursday defeating Boston College 6-3, a team who they had just barely defeated during a regular season game in September. This strong victory gave the team the momentum to continue playing hard, defeating Wake Forest Friday in overtime, 3-2.
The Cavaliers put up quite the fight this season, working hard to prove to everyone they have what it takes to perform during the season and then continue on to win the ACC Championship game.
The Wahoos will make their way to University Park, Pennsylvania for the first game of the NCAA tournament Saturday against Michigan.
With the sweet, addicting, taste of victory in their mouth, Virginia is not going to give up without a fight. As long as they continue to press Michigan's defense hard and work to connect passes, the ACC Championship title won't be the only title they'll take home this season.