UVa students gathered on the 1st of November at 11:11am in the University's amphitheater to hear the touching stories of 'Dreamers' that study at Charlottesville's high schools and at the University of Virginia. 'Dreamers' are people who were brought to the United States without documentation before they were 16 years old who have been granted conditional legal status in the United States.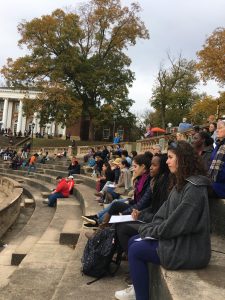 Many of these students had previously kept their tales of immigration and assimilation into the United States a secret. One speaker from South Korea mentioned that her parents made it clear to her to never talk about her status as an undocumented immigrant. For these students, sharing their stories demonstrated immense bravery.
Although Dreamers recognize that they lack certain privileges, they don't think of themselves as a different type of person. A Charlottesville high school student at Monticello named Santiago explained, "I was about 9 years old when I came to the U.S. and I knew I wasn't gonna get the same opportunities as everyone else. My parents just told me not to worry about it. They brought me here for a new life. When people ask me if it feels any different to be undocumented, I say not really, I'm the same guy."
Without Congressional action on their behalf within the next 5 months, DACA recipients may lose their ability to work, study, and even the simple freedom of driving a car. Without a social security number, it's virtually impossible to work in the United States.
Roxana, a woman who came to Charlottesville from El Salvador said, "I currently have a part-time job and I know only this year I can work, because by next year my DACA will expire." DACA eliminated her fears for years, but the recent repeal has opened a floodgate of anxiety.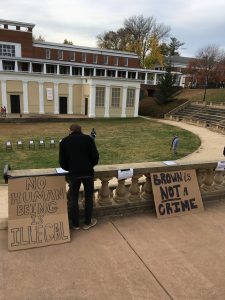 Roxana concluded by saying, "we are not here to take anything away from anyone. We are here so that our children can get an education and to be future leaders of this country."
A UVA fourth year named Ibad born in the United Arab Emirates to Pakistani parents said, "My parents brought me to the United States when I was three years old, as a result, I have little to no memory of where I was born and even less memory to no memory of Pakistan, and yet in the case I was deported that's where I'm told I would go, not to Texas or California or northern Virginia where I went to high school and essentially grew up."
For some Dreamers, deportation would mean being shipped to an alien land that they know very little about. They often know more about the culture of their home in the United States than they do about the culture of the countries from which their parents traveled.

The story isn't over yet, however. The Trump Administration will revisit its repeal of DACA in 5 months if Congress does not introduce a bill that speaks to the legal status of undocumented Dreamers. Now is the time to send letters to your Representatives expressing your beliefs and concerns on the issue.
For more information on the status of DACA at the University of Virginia, visit this helpful webpage http://dacauva.org or get involved with Dreamers on Grounds at https://www.facebook.com/dreamersongrounds/ .