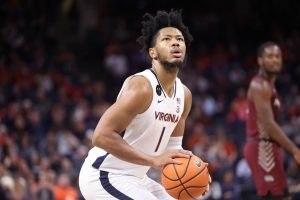 Earlier this afternoon, the Virginia Cavalier men's basketball team moved up from #5 to #3 in the latest release of the Associated Press Top 25 Rankings. The Hoos' #3 ranking is their highest ranking since they won their first NCAA Division I men's basketball championship in program history in the 2018-2019 season. UVA also received two first place votes in this week's AP Top 25 Rankings.
Virginia's return to the top 3 comes after a 72-45 win over the Maryland Eastern Shore Hawks on Friday night at John Paul Jones Arena to improve their record to an undefeated 5-0. In the win, Jayden Gardner led the way for the Hoos, scoring a game-high and season-high 26 points on 12/15 shooting. Kadin Shedrick also scored in double figures for the Cavaliers, recording 13 points on a perfect 4/4 shooting from the field. Defensively, Virginia turned in a dominant performance, holding the Hawks to under 35% shooting from the field and just 3/18 shooting from the three point line. The Hoos also forced the Hawks to turn the ball over a total of 15 times.
With their 5-0 start to the season, Virginia is the last remaining unbeaten team in the ACC. UVA next returns to action on Tuesday night on the road at the 5-1 Michigan Wolverines in the ACC/Big Ten Challenge at 9:30 PM on ESPN.