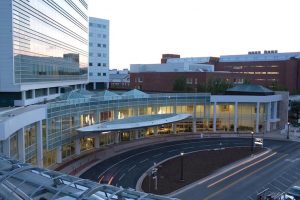 UVA Health announced on April 28 that it will implement furloughs and other expense reductions in order to combat an $85 million deficit brought on by the coronavirus pandemic. The series of actions described in Tuesday's press release include slashes in compensation for physicians and leadership, adjusting hours for patient-care staff, furloughs, and cutting back on funding for the University of Virginia School of Medicine, School of Nursing and Health Sciences Library.
According to Executive Vice President for Health Affairs Dr. Craig Kent, addressing the deficit required intensive collaboration.
"These decisions were reached only after a great deal of input from leaders across the organization, and are focused on actions we must take now to be able to fulfill our mission," said Kent.
As a result of coronavirus response efforts, hundreds of the University of Virginia Hospital's inpatient beds have been regularly unoccupied. In addition, surgeries have declined by 70%, and clinic visits have been reduced by 90%. The effect has been a dramatic descent in revenue. CBS19 reports that the Health System is losing $3 million every day.
The elements of the Health System's plan to address its deficit are expense reductions, compensation reductions, suspension of some retirement contributions, furloughs of some non-patient care staff, and scaling down funding for educational entities — the School of Medicine, the School of Nursing and the Health Sciences Library. Changes in staffing will not affect UVA Health employees caring for coronavirus patients, but physicians will see a 20% reduction in their pay through the end of July.
UVA Health leadership will also do its part. In order to consolidate the Health System's funds, Kent will reduce his compensation by 40% through July 2020. The measure may be extended beyond the summer if deemed necessary. Following suit, leaders from the UVA Medical Center, the UVA Physicians Group, the UVA School of Medicine and the UVA School of Nursing will see their salaries reduced by 20% for the same period of time. Without this plan, UVA Health predicted that its necessary funding would run out within "a few months," according to Tuesday's release.
Addressing UVA Health employees in an email, Kent stressed the importance of attacking the deficit before more widespread layoffs become unavoidable.
"The challenges presented by this crisis are difficult to exaggerate," Kent wrote. "We have no choice but to take action — now — to stabilize our organization."
To reduce anticipated financial hardships, the non-patient care staff who are furloughed for up to three months will retain their health, dental, and life insurance benefits. They may also choose to direct their time out of work toward any available paid leave. A team from the UVA School of Law will be available to assist with acquiring unemployment benefits for those impacted. Furloughed staff may also access UVA's Emergency Assistance Fund, created in response to the coronavirus pandemic.
Kent concluded his message to employees by reflecting on the resilience he has witnessed at the University of Virginia.
"Our people make us who we are," said Kent. "In my short time here, I have observed a vibrant organization supported by remarkable people. Without a doubt, today's actions are difficult, and the impact on our community will continue to be immense as the result of this health crisis. We hope to return colleagues to work, and salaries to normal, hopefully as soon as possible. We all care deeply for this organization and about our future. We will endure — I know we will, working together."
---
A dedicated site has been set up with information and resources for employees at hr.virginia.edu/covid-19/covid-schedule-adjustments.