This Spring, slain U.S. Army Captain and UVa graduate Humayun Khan will be honored with a plaque on the outside walls of the Rotunda. Capt. Khan, who was killed in Baqubah, Iraq on June 8th, 2004 after he stopped a taxi full of explosives at a checkpoint, is the only UVa graduate to have been killed in the Iraq War.
The plaque is being donated by the Seven Society, and University Historian Alexander "Sandy" Gilliam is acting as an intermediary in the process. Currently, there are already plaques on the Rotunda walls that honor UVa alumni who were killed in the Civil War, World War I, World War II, the Korean War, and the Vietnam War.
Khan, an avid admirer of Thomas Jefferson, graduated from the University of Virginia in 2000 with a degree in psychology. He had originally planned to become an attorney like his father, Khizr Khan. Even after joining the ROTC program at UVa, he dreamed of joining the military's Judge Advocate General Corps.
Those dreams were put aside on June 8th, 2004. Capt. Khan was inspecting soldiers on guard duty when a taxi approached his compound at a high speed. Khan
approached the vehicle and motioned for it to stop, and then the vehicle exploded, killing Khan and two other Iraqis.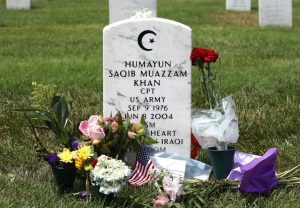 Capt. Khan's actions saved not only the lives of his troops pulling security detail, but also the lives of hundreds of his fellow soldiers who were eating breakfast in a mess hall near the gate where the explosion occurred. Other soldiers stationed with Capt. Khan noted that June 8th was Khan's off day, but he insisted on checking on his troops outside. He was just 27 years old.
Khan's parents, Khizr and Ghazala Khan, remain active members of the UVa community and are heavily involved with UVa's ROTC program.  Each year the family awards one fourth-year Army ROTC cadet with the Capt. Humayun S.M. Khan Memorial Award during the annual joint commissioning ceremony in honor of their fallen son.
The Khans became a subject of national attention last summer after Khizr Khan spoke at the Democratic National Convention and decried Donald Trump's stances on immigration. The Khans are of Pakistani descent and immigrated to the US from the UAE when Humayun was 2 years old.
The plaque honoring Capt. Khan is tentatively set to be installed at a dedication ceremony on May 2nd. Capt. Khan has already been posthumously awarded Bronze Star and Purple Heart medals, and will now be recognized at his University for his leadership and the sacrifices he made for his troops and for his country.