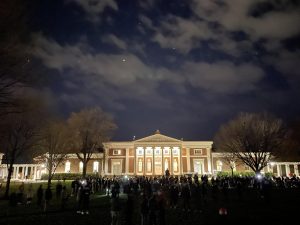 On Friday evening, the Cavalier Marching Band came together to perform in honor of Lavel Davis Jr., Devin Chandler, and D'Sean Perry, three U.Va. football players who passed away this past Sunday after a deadly shooting. The event was called, "Community Togetherness Through Music." Many students, faculty, and community members came to watch in solidarity, silently standing at the edge of the South Lawn. 
Dr. Elliott Tackitt, the Band Director at U.Va., started the night by saying, "Tonight as a community we're coming together to remember our classmates and community members, Devin, D'Sean, and Lavel. Through music we hope to spread a sentiment of peace and unity this evening. Knowing that we are strong when we are together, when we are able to lean on one another and also to lift one another up."
The band performed four short pieces: "Nessun Dorma" (from Puccini's Turandot), "Amazing Grace," "You Raise Me Up," and "The Good Old Song." Recordings of these pieces played that night can be found within this article. 
Before beginning "Nessun Dorma," Tackitt gave his thanks to those who came and members of U.Va.'s many musical communities, who came to join the performance in support. 

"Nessun Dorma"
Tackitt recalled that the night earlier, during the band's first rehearsal since last Saturday's football game, students journaled following certain prompts. Prompts were, "This week I have felt…," "Right now I wish to express," and looking forward, "For the future I hope…" Players wrote their thoughts, hopes, and wishes on post-it notes, which can be found on the glass doors of the band's building. Tackitt said, "After reading some of them this afternoon, I thought there was no better time than now for us to not only share the wishes that the band has for its own community, but to share those thoughts with you all."
Tackitt invited one of the Cavalier Marching Band's drum majors, fourth-year Alexa Ramirez, to read some of these aloud to the audience. As her phone lit up her face, her thoughtful expression could be seen as she recounted dozens of post-it note recollections. 
"Through any time, and difficult times especially, I want to remind you that you are loved. Love will get us through this as a whole, together."
"I love this community so much. We are here for each other, we show up for each other, we support each other, and we all grow together. I am so thankful for this family that I am so blessed to be a part of. I love you all so much, and I hope that we will all heal together"
"Let feelings pass, and take care of yourself. Never let that go. Turn it into unrelenting, undying empathy and compassion for everyone."
"You are infinitely precious and unconditionally loved."
Ramirez addressed the audience saying, "I hope [these messages] can resonate with you tonight."
"Amazing Grace"
"You Raise Me Up"
Before playing "The Good Old Song," Tackitt asked for the audience to take a moment of silence. "I invite everyone to take time, intentional time, with compassion and active listening for those who are in need, who express that they can't do it all on their own, and invite everyone to feel equally vulnerable." Heads bowed down as the Lawn became silent once again.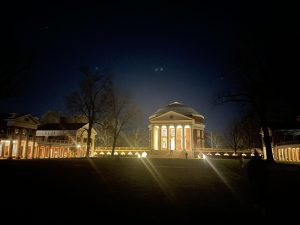 "The Good Old Song"
As "The Good Old Song" began, students and community members embraced, quietly swaying with the cadence of U.Va.'s school song. This rendition was slow and solemn, with the sounds of the band ringing through the air.
One of the last messages from the band read, "Grief is just love in a heavy coat. Through our grief never forget the love we have for each other, our community, and our university. We are grieving because we have loved."