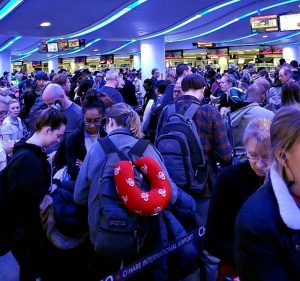 Due to guidelines from the Centers for Disease Control and Prevention (CDC) related to the coronavirus pandemic, all students traveling for University-related purposes have been instructed to depart. On March 12, the University of Virginia suspended its remaining spring semester programs in France, Spain, and India. As of March 15, the U.S. Department of State advises all American citizens to reconsider travel abroad due to the global impact of COVID-19.
Dudley J. Doane, Director of the UVA International Studies Program, addressed students located in Europe by email and instructed them to return to the United States within four days, if possible.
"All of us at the University of Virginia recognize how disappointing the effects of the coronavirus outbreak are for you," Doane wrote. "This is a truly exceptional and unexpected course of events."
As a third-year undergraduate student who regularly attended in-person classes in Madrid until Tuesday, March 10, recent days have been whiplash-inducing. I received an email on March 3 from my study abroad provider, IES Abroad, informing me that my semester in Spain would continue despite the spread of the coronavirus. Yet today I am home — less than two weeks later — as President and CEO Mary Dwyer announces the suspension of all IES programs in Europe, Ecuador, Argentina, and South Africa.
Like University of Virginia officials, Dwyer urged immediate travel to the United States from the impacted nations for all students abroad.
"Students will be directed by IES Abroad to depart these countries by Saturday, March 21 and return to the United States," Dwyer wrote. "We strongly encourage students to leave sooner, if possible..We understand that this decision may disappoint some students, but the situation in each of the countries listed above continues to deteriorate rapidly. We believe remaining in these countries can no longer satisfy the cultural experiences intended in studying abroad. There is a significant risk of health care systems in Europe becoming overwhelmed and students not being able to access health care assistance, if needed. With countries closing borders and airlines suspending flights, we encourage students to act as quickly as possible."
When President Trump announced on March 11 that travel from Europe to the United States would shortly be restricted, classmates scrambled to make it home immediately — the president's speech having excluded the vital information that American citizens, permanent legal residents, and their families were exempt from the forthcoming travel ban. Other students dropped everything in the middle of the night to head to Madrid-Barajas airport, frightened that if they did not board an outbound flight as quickly as possible, they would be stuck for at least 30 days. While I was fortunate that my airline altered the date of my flight from Madrid to the United States free of charge, some classmates paid more than a thousand dollars in change fees or booking last-minute departures.
Just a week ago, I pushed my way through a crowd of thousands while on my way home from El Retiro Park as a sea of protesters marched in the streets of Madrid to mark International Women's Day. The following afternoon, I attended my normal art history class at the Prado Museum, the masses in front of Diego Velázquez's famous Las Meninas as pushy and boisterous as ever. Now I'm in my hometown of Baltimore, my classes are to be conducted entirely online, and Spain is in a state of national alarm — the government having announced a 15-day lockdown in which people will be allowed out of their homes only for emergencies, food, or medicine. Most recent reports indicate that Spain's coronavirus death toll doubled overnight.
Perhaps I should have anticipated the sudden, urgent need to leave. Still, I was in a major world capital with excellent healthcare. It felt ridiculous to imagine going home as I saw packed bars and cafés, bustling metro stations, and eager shoppers crowding stores near my apartment. I even traveled to Amsterdam without issue the weekend prior to receiving UVA's instructions to depart the continent as soon as possible. Now, I worry for my friends still in Europe, deemed the "epicentre" of the pandemic by the World Health Organization. When I entered the United States a few days ago, the customs process took less than a minute, and I underwent no coronavirus-related screening. Today, travelers wait for hours to be questioned by health officials, and airports are in chaos.
In a journal entry dated January 5, the word "coronavirus" not yet in my vocabulary, I wrote of trying to overcome worries that it would be my type 1 diabetes, not an unknown illness but a chronic one that I live with every day, that would ultimately inhibit my travel plans — the bitter naiveté of which now makes me laugh.
"I can travel, even with lots of medical supplies, even with my neurotic personality, even with my self-doubt and panics in the night after 1 a.m.," I wrote. "Diabetes might have given me the sense that I'm constantly in danger or failing or both, but it will not get in the way of my semester in Europe, and I have every reason to expect stability. Has writing it down helped me to believe it?"
My anxieties, though misdirected, proved unfortunately warranted. While students traveling abroad like me might have had "every reason to expect stability," the University now faces a time of uncertainty.
Dean of Arts & Sciences Ian Baucom addressed College students in an email on March 14, advising regular checks on the University's coronavirus website for updates.
"Thank you for your thoughtfulness, resilience, and care for one another during these challenging times," Baucom wrote. "President Ryan has called on us to bring our intelligence, compassion, and kindness together as we see this moment through. We are committed to answering that call as we dedicate our energy, imagination, and resolve to advancing your education and your well-being."