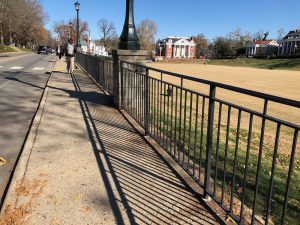 Twelve UVa students have joined together to create a series of five runathons. "Together We Run" is a response to the Unite the Right rally and ensuing violence that occurred throughout Charlottesville in August.
After the chaos struck the college town, fourth year Andy Page reached out to several students to discuss what was happening in Charlottesville and they brainstormed potential actions.
"We were frustrated with the events that happened in August. Protests can be useful, but they have a time and a place," said Page.
The students decided to organize a series of runathons that would raise money to be donated to local social and racial justice organizations.
Page was inspired by the Run for Refugees runathon that took place last spring to raise money for the International Rescue Committee. It served as a response to President Trump's travel ban.
The races will be held in Charlottesville, DC, Charleston, Miami, and Austin throughout December and January. Page explained that these cities were chosen because of their relevance in the grander social and racial justice discussion. Together We Run for example, is donating proceeds from the Charleston race to Emanuel African Methodist Episcopal Church, the site where nine black people were murdered in June of 2015.
The twelve students are traveling throughout the winter break to help organize each race.
The first race will be held in Charlottesville at Madison Bowl on December 2nd from 9 am to 12 pm. Proceeds will be donated to The Heather Heyer Foundation.
Charlottesville resident Heather Heyer was killed when she was struck by a car during the Unite the Right rally. Heyer was advocating for civil rights by protesting against the white supremacist organizers and attendees.
The foundation was created to honor Heyer, a paralegal who devoted her life to fighting for equality for all. The foundation helps create scholarships for people who have made significant contributions to service work and the community–those who otherwise would not be able to afford a greater education.
"Our aim is to get as many people involved," said third year Jen Laredo, another student involved in the event's organization.
Participants help raise their own money for the races. Each participant runs however many miles they can in the three hour time slot and collects pledges from friends, family, coworkers, or professors who vow to donate a certain amount of money for each mile ran.
"This way people from the Charlottesville community and their extended network can get involved," said Laredo.
Laredo explained how the idea of having a runathon was more appealing than a 5K because it tends to attract different types of people, not just runners.
The runathon has received sponsorships from partners of the University such as McIntire School of Commerce along with Third and Fourth Year Class Councils.
Those interested in running can still sign up for the race here. Tickets are $15 and you are able to purchase a t-shirt.
"I hope this inspires people to do better things in response to the events in August," said Page.