Over the past few weeks, we have been reminded just how pervasive sexual assault and harassment is at UVA. As reported by WUVA on June 17th, survivors of sexual assault anonymously sent in their stories to a series of anonymous Twitter accounts in an attempt to protect others from their alleged abusers. This action reintroduced the conversation surrounding sexual misconduct to the limelight, drawing attention to a petition from the group UVA Survivors (first introduced in March) that calls on the University to allocate more resources and refine policy concerning sexual violence, harassment, and more, amongst other demands.
What brought us to this point? What is the series of events that made survivors feel as though the system was not working in their favor?
In a November 2004 article from since-closed Charlottesville newspaper The Hook, fourth-year Annie Hylton alleged that her abuser was found guilty by UVA's Sexual Assault Board (no longer handling cases) yet was still able to finish out his undergraduate degree at the university with only minor consequences, such as being banned from the "first-year dining hall and the Aquatic and Fitness Center." Hylton later alleged that she was threatened with expulsion from UVA if she spoke publicly about the case, a fact that prompted the U.S. Department of Education to warn UVA's then-President John T. Casteen III that doing so might violate federal law. In 2008, the Dept. of Education found that UVA's policy of requiring victims of sexual assault to abide by confidentiality agreements was an incorrect interpretation of the Family Educational Rights and Privacy Act (FERPA).
Hylton eventually sued her alleged abuser for $1.85 million in damages in civil court, receiving a $150,000 verdict despite the jury feeling that she failed to prove that she was raped or drugged. According to TakePart, "Between 2002 and November 2004, while Hylton was a student, 60 UVA students reported sexual assaults to the school. Not one student found guilty by the SAB was expelled. During that period, 38 UVA students were expelled for Code of Honor violations such as cheating."
Federal data, collected under the Clery Act and compiled in this Washington Post article, shows that UVA had the 20th highest number of reported "forcible sex offenses" between 2010-2012 (41 reports) out of all four-year colleges in the country (public and private) with at least 1,000 students as of 2012. Virginia Tech had 27 reports in that period, William and Mary had 12, and VCU and JMU both had 11.
In this time period, UVA had opened one Title IX case, which ran from June 25, 2010- July 15, 2011, and was resolved. No further details are available in this case.
In 2011, UVA came under investigation by the U.S. Department of Education, an investigation that lasted until September 2015. This compliance review by the Department of Education and the District of Columbia Office of the Office for Civil Rights (OCR) determined that UVA "had a mixed record of responding to reports of sexual harassment and sexual violence." (U.S. Dept. of Education). On August 31, 2015, the OCR and Dept. of Education sent UVA a letter of their findings, which included statements such as, "During the period of it's investigation, OCR also found that the University failed to identify and address a sexually hostile environment."
The following image is a screenshot of the OCR and Dept. of Education's initial letter of findings from August 2015.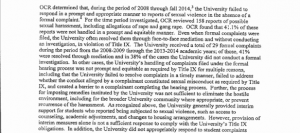 UVA entered into a resolution agreement with the OCR and the Dept. of Education in July of 2015, several months before the investigation was completed. In this agreement, found here, the University agreed to follow Title IX guidelines in crafting a new policy to address sexual assault and harassment and to take more steps to address the issue.
A December 2014 article from The Washington Post, published after the November 2014 Rolling Stone article had already begun to unravel, alleged that UVA had "expelled no students for sexual misconduct in the past decade." In contrast, the University of Maryland, Georgetown University, and George Mason University all had issued expulsions for sexual misconduct between 2012-2014. The article also argues that UVA is far more willing to expel students due to academic misconduct, such as cheating or plagiarism, than sexual misconduct. UVA does have a proven tendency to hand down suspensions for sexual assault, but the punished students still are given the opportunity to complete their studies.
Between the period of 1998-2013, the award-winning documentary, The Hunting Ground, alleges that there were 205 reported sexual assaults at UVA that resulted in zero expulsions. In contrast, the documentary alleges that 183 expulsions were granted based on cheating and other Honor violations.
In 2015 and 2019, the University of Virginia took part in the American Association of Universities Campus Climate Survey on Sexual Assault and Sexual Misconduct. 5,482 students (undergraduate, graduate, and professional) responded in 2015, with 28.1 percent of students responding that it was very or extremely likely that campus officials would take action against the offender. Within this, only 19.3% of female undergraduates and 17.5% of female graduate students felt this way, compared to 36.8% of male undergraduates and 41.5% of male graduate students. The 2019 survey, which 6,993 students responded to, did not include results data for this question.
In the 2019 survey, the incidence of sexual assault by physical force, threats of physical force, or incapacitation reported by female undergraduates since entering college was 25.5%, compared to 7.9% for male undergraduates, and 10% for female graduate students compared to 1.9% for male graduate students. In the 2015 survey, 23.8% of female undergraduates, 4.5% of male undergraduates, 12.3% of female graduate students, and 1.9% of male graduate students reported these incidents (UVA).
In July 2019, the University was barred from continuing with hearings in a Title IX case, even after allegedly finding the accused student responsible for sexual assault. U.S. District Judge Glen E. Conrad, who is locally known for allowing the August 11-12 "Unite the Right" rally to be held in the formerly-named Emancipation Park despite concerns from the City of Charlottesville about the size of the gathering, sided with the accused student in the case. According to Inside Higher Ed, Title IX experts believe that UVA may not have thought critically about the specifics of the case, and should have relied on more general conduct code violations that would have stuck easier than a Title IX violation. The accused student later sued UVA when they attempted to withhold his degree due to the ongoing investigation, but the two parties settled out of court and the student received his degree.
On May 7, 2020, Secretary of Education Betsy DeVos introduced new Title IX regulations that, according to PolitiFact, provide a narrower definition of sexual harassment, require that live hearings in colleges and universities allow cross-examination of all parties and witnesses, and let schools adopt a higher evidentiary standard. A Virginia Crime Commission study in 2011 found that 39% of Virginia colleges and universities were using a standard of proof in campus rape proceedings higher than recommended by the federal government.
It remains to be seen what steps UVA will be taking to revise its current policies and procedures, as is required by the updated Title IX guidelines that become effective on August 14, 2020. The Office for Equal Opportunity and Civil Rights has hosted three feedback sessions for the university community to share their thoughts, with the fourth, and final, session being held virtually on July 8 from 3:00 pm-4:30 pm. Students, faculty, staff, alumni, and community members can register for the feedback session here: https://virginia.az1.qualtrics.com/jfe/form/SV_3vCQ0C026aBH96l.