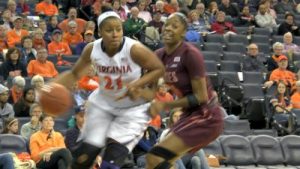 It's winter break at UVa and many universities around the country. It's the time of year that most college students love the most. After a tough fall semester, they are able to unwind after finals and just relax, or binge watch their favorite Netflix shows. But mostly, it's the best time of year to spend with family for the holidays. Winter break is different than thanksgiving break, mostly because it is longer and it's during the celebration of many holidays, rather than just one. However, for student-athletes, they enjoy the winter break for reasons other than just the duration.
As a student-athlete and member of the UVa women's basketball team, I enjoy winter break because although my teammates and I do not get to actually go home the entire time, we are able to bond and spend more time together off the court. It is also the best time of year to focus on our individual skills athletically, without worrying about upcoming assignments or tests. We have so much free time before and after practice for extra work, like getting extra shots up or even watching film with coaches.
My teammate and fourth year, Breyana Mason talks about why she always looks forward to winter break.
"For me winter break is a lot of things. As a basketball player, since we are in season during this time, I don't get a break from competition like some athletes. Fortunately, I do get some time to unwind and rejuvenate after a long semester. My month-long winter break consists of the regular break from school that all students get, and a mini break where I get to spend four days at home with my family for christmas."
Although, our break spent at home is short, it means a lot due to the fact most teammates go months or even a year without seeing their families. Mason says, "The few days I spend at home for the holidays are one of the most relaxing times of the year because I get a chance to spend quality time with my parents and meet up with old friends." But, once the four days are up, we head back to Charlottesville for practice and games.
However, other fall athletes like soccer player and redshirt sophomore, Annaugh Madsen enjoy their entire winter break at home with their families. Like most college students, she looks forward to and values the time spent with family and friends. She also says that the break from school and practice is needed because between school and soccer, it's a lot. Nevertheless, this break is also used to improve athletically.
"Winter break is pretty important for us because it's a lot of time away and a lot of time where we can get better technically and physically. Steve [Swanson, head coach of the women's soccer team] really wants us to come in ready to hit the ground running this spring. It's important not to slack off and not just stay in shape, but get in better shape to be prepared for the spring", she says.
It is nice to see student-athletes who are out are out of season during this break, enjoying their free time, but also spending their time wisely, continuing to work hard and refine their skills. No matter the length of time spent away from grounds, Carter Green, a third year, thrower on the track and field teams, sums it up for just about all athletes nationwide.  She shares some advice and says, "It's important to take advantage of the time off and rest our bodies and mind going into the second semester strong, in the classroom and in our sports."