Student Council and the Black Student Alliance at UVA released Wednesday a budget summary for the University's Office of Safety and Security (OSS), which includes the University Police Department.
The acquisition of the budget summary comes at a time when a wave of Black Lives Matter protests, including in Charlottesville, have led to increased calls for defunding police departments. 
"Transparency from our local police departments is an issue of national importance," a statement from Student Council read. "Dialogue on defunding police departments and reallocating their budgets to more effective, community-oriented resources is nearly impossible without knowing budgetary details."
Ellen Yates, President of Student Council, said she originally requested the budget on June 23rd from UVA's Vice President of Finance.
Just days ago, the Representative Body of Student Council voted to demand the University decrease UPD's budget and reallocate those funds to Counseling and Psychological Services (CAPS).
The document (shown below) is a one-page summary that shows the total revenue, salaries, and operating expenses for the departments within OSS for the fiscal years of 2017-2021, but does not reveal any details beyond that.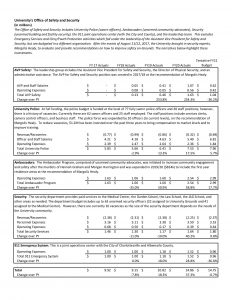 Of significance is UPD's budget, which grew to $7.53 million from $6.41 million between 2019 and 2020. Roughly 73% of the department's budget goes to officer salaries.
The document also revealed that after the events of August 11 and 12, 2017, the University hired security consulting firm Margolis Healy, who recommended that UVA increase its police force by 10 officers, bringing the target amount of officers to 77.
"Police presence did nothing to protect counter-protestors and people of color on August 11th and 12th," Yates said about the change. "What we do know is that increases in police presence do much to incite fear in Black, Brown, Indigenous, and undocumented communities, and can lead to the targeting and criminalization of, and violence against, these individuals."
Yates said funding should have instead increased for community resources, "as well as programs that investigate UVA's own complicity in racism on Grounds and in the community."
Student Council will continue to seek a more detailed version of the OSS's budget, according to Yates.