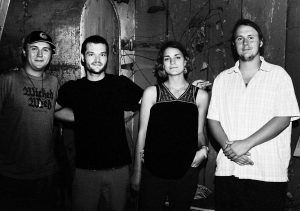 The Blenders are a band known and loved by the UVa community. They frequently play weekends at corner hot spots like Coupe's. While the band produces original content like their newest album, "The Blenders" EP, they play rock covers as well.
Alice Clair from The Blenders starts off explaining how she met bandmates Ben Smith, Nate Smith, and Tommy Proutt.
"We all grew up as musicians in Central Virginia. It was probably inevitable that our paths would cross at some point, but in Ben and Nate's case, they met in the womb. Probably never even got a formal introduction," she joked about the twins.
"Tommy grew up with music, having performed in bands and as a singer-songwriter. He moved back to Central Virginia from going to school in South Carolina while Nate and Ben and I were going to PVCC trying to get out of high school. I met them through mutual friends and then I met Tommy through them."
Tommy recounted that at some point in 2014, "Ben got a job bussing tables at the restaurant I cooked at. I soon thereafter met Nate…"
"I don't think it took long until I had my Telecaster and Fender Twin in their parents basement, jamming some mornings before I had to work at 2 pm," Tommy said.
"As The Benders – the name of this group –  we played our first show in March 2015. I had recently met Alice, and she came to our second show later that Spring," he added.
The Blenders frequently leave Charlottesville to play all around Virginia. When asked about their favorite place to perform, Tommy said he couldn't just choose one.
"Venues such as Rapunzel's Coffee & Books, The Ante Room, Rapture, Cary St. Cafe and The Southern Cafe & Music Hall are all very comfortable because of their in-house PA and sound man," he explained.
"If you can't hear your bandmates then you can't contribute anything relevant to the musical soundscape… what it boils down to is that I want to play anywhere and anytime with these fools," Tommy continued.
Alice on the other hand, is loyal to Coupe's.
"I['ve] grown to love Coupe's because we always have such an energetic and (in one way or another) loving crowd. We know what to expect and are comfortable in the space," she remarked.

"I always love playing at new places for different reasons. I will also always hold our show this past June at The Southern Cafe and Music Hall dear to my heart."
When asked about what we can expect from The Blenders in the future, Alice excitedly shared that there is a lot in the works.
"We have so much music that we want to have recorded – I think a full length album might be knocking on the door as well as other exciting plans and projects for this coming summer, wink wink. Stay tuned!"
The Blenders can be found on Spotify.