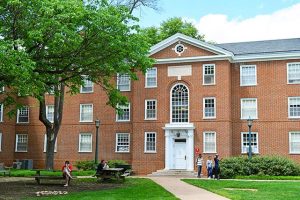 On October 18, students received an email from UVa. Chief of Police Michael Gibson stating that "an unidentified male was seen watching and potentially filming a female student in a shower stall." The University responded to the report by enforcing an old policy that had not been consistently upheld: students would need a key code to access their respective bathroom doors, which would now be regularly locked.
The details about the man who spawned this change remain unclear: his race, height, and age are all unknown.
The disturbing incident prompted the enforcement of a locked door policy that was already in place but not typically followed. In an email to Metcalf and Lefevre dormitory residents, senior resident advisor Cassidy Burke stated that "we are now enforcing the existing housing policy which states that all bathroom doors must remain closed and locked." She added that propping open or taping bathroom doors "will result in documentation by your RA."
Burke urged students to comply with this new policy, explaining her reasoning by stating that "it is crucial that we all cooperate to ensure each other's safety."
Some students living in the McCormick Road dorms are generally unhappy about this policy shift, but they understand the rationale behind it.
First-years Holli Foster and Maddie McGeehan both described the new rule as "inconvenient." Foster explained that the policy has some unintended consequences for first-years who use these bathrooms for more than just bathing.
"It's really annoying," she said. "I have a hard time washing my dishes."
McGeehan also admitted that while the measure is not ideal, she "can't think of any better solution."
At the end of the day, another first year student, Hannah Crump, said that sees the policy as a necessary evil. "It's kind of inconvenient, but at the same time I don't want a guy coming in," she explained.
—
For more information on Housing and Residence Life, click here.