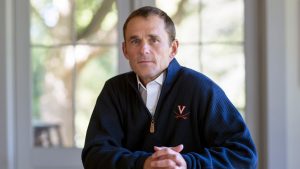 In an email to the University community dated Wednesday, March 11, University President James Ryan announced that all University of Virginia classes will be held online for the foreseeable future, possibly through the end of the spring 2020 semester, due to perceived risks surrounding the global coronavirus outbreak. All current University students, many of whom are traveling on spring break, are urged to stay home and not to return to Grounds.
In addition to affected classes that will be conducted remotely from now on, Ryan explained new prohibitions designed to minimize the risk of spreading the virus.
"University events with more than 100 people are prohibited for the foreseeable future and should be postponed, cancelled, or offered virtually," Ryan wrote. "These are obviously significant steps that will cause disruption and disappointment, which we all regret. We nonetheless feel compelled to take these steps in light of the most recent evidence. The virus continues to spread nationally and in Virginia. We still do not yet have a confirmed case of COVID-19 on Grounds or in the greater Charlottesville community, so our risk remains relatively low. Given that fact, the easiest and least disruptive option would have been to bring all students back to Grounds as planned and hope to make it through the rest of the semester without a confirmed case. We also considered bringing students back and moving only large classes online."
While the University's latest measures have been designed to keep the risk to the Charlottesville community as low as possible, university buildings and UVA Health will remain open for the benefit of those who cannot vacate the area.
"We recognize that some students cannot go home, for a variety of reasons, ranging from the fact that their hometowns or countries are not safe to the fact that their only homes are in Charlottesville," Ryan wrote. "We will continue to provide housing for students living on Grounds who genuinely cannot return home, and we will continue to provide dining services, though they will be modified. We will also offer assistance to students on financial aid who need help in returning to their homes."
These unprecedented measures will result in all faculty being contacted by their respective deans with instructions on moving their classes online indefinitely. Ryan acknowledged the difficulties in training and technology involved.
"We realize you will likely have questions, both about this decision and about COVID-19 in general," Ryan wrote. "Starting today, you can go to this website for more information, and we have set up a call center (Domestic: 877-685-4836; International: +1 202-800-2408) with staff trained to answer the most common questions. We will also be sending out more detailed communications about various elements of this plan, which we will also post on the website. As this is an evolving situation, we will also provide updates if there are significant changes to the plan outlined in this email."
Ryan elaborated on his confidence in faculty, staff, and students. He also addressed those who have witnessed their long-planned events cancelled, such as the 2020 Virginia Festival of the Book.
"Put simply, UVA has never encountered something quite like this," Ryan wrote. "There is no roadmap for trying to put most of the University curriculum online in a week. But I have enormous faith in this community—in your resilience, your willingness to do your part to keep others safe, and your ability to make the most of a very difficult situation. I have special faith in our students, for whom the health risks are generally low and for whom the disappointments are high, but who I know will recognize that now is the time to think first of the well-being of others."
In an effort to identify with the parents of affected students, Ryan stressed that he is also a concerned father.
"As the father of a graduating senior at another university who has been asked to return home, I know this decision will hit our fourth-year students especially hard," Ryan wrote. "It will also create economic challenges and hardships for some in the Charlottesville community whose livelihoods depend on our students. We will make it through this together by supporting each other, thinking creatively, and staying connected even if physically separated. I cannot pretend, obviously, that this is how I hoped this semester would unfold. No one can. But I eagerly await the ingenuity, compassion, and kindness that this common challenge will surely unlock within our community. If there were ever a time to be both great and good, this is surely it."