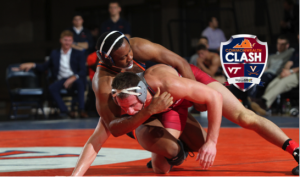 The Commonwealth Clash returned to Blacksburg, VA Sunday with an intense UVA vs. Virginia Tech wrestling match. The No. 25 Virginia Cavaliers fell 29-14 to the No. 6 Virginia Tech Hokies.
The match began with the 125-pound rivalry between Virginia Tech's Joey Dance and U.V.a's Jack Mueller, both nationally ranked wrestlers. Dance took the victory for VT. The Hokies were also victorious in the 133-pound bout.
The Hoos then came back with 141-pound and 149-pound victories. The Hokies continued to fight, however, and at the halfway point, Tech's No. 16 Mastriani defeated Virginia's No. 14 Atkinson.
The Cavaliers then clinched the 165-pound win, leading 14-1. But the Hokies would not accept defeat. They sent four wrestlers, ranked in the top-5 in their weight classes, to the mat to win the next four matches and secure the victory over UVA.
This back and forth dual-match proved exciting to watch and showed the momentum of the Virginia team in full force. Virginia will return to action on Sunday at home against No. 7 NC State.