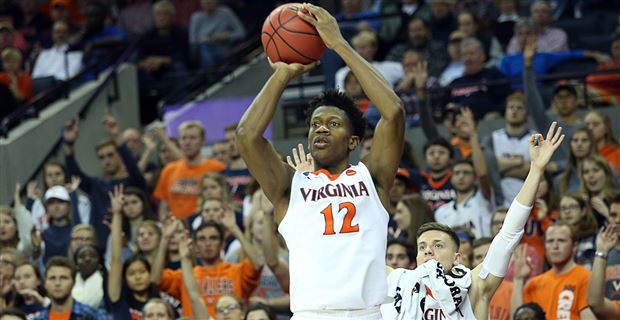 In the two teams first ever meeting, Monmouth (2-2) was unable to score much against the suffocating defense of Virginia (4-0). The Hoos were able to put another game away early and maintained their unbeaten season.
The Cavaliers were led throughout the contest by a terrific game from redshirt freshman guard, De'Andre Hunter, who finished with 23 points and 8 rebounds, while only missing twice from the field.
Second-year guard, Kyle Guy, continued his excellent start to the season, following up his career-high, 29-point performance against VCU, with 13 points, and three assists on the afternoon.
The first half got off to a slow start for the Hoos, with the Hawks drawing fouls and hitting a couple threes to push out to an early seven-point lead. But they were quickly steadied by an impressive run from De'Andre Hunter in which he scored 10 of the team's next 12 points to regain the lead. During the stretch, he knocked down a three-pointer, a long jumper, and showed his ability to finish around the rim. He entered the break with 15 points.
Monmouth had trouble working the ball inside against Virginia's defense and was forced to shoot contested three-pointers and long jumpers. They finished the first half having shot 11 three-pointers, but connecting on only three. They would continue this effort in the second half and finished the game at 6-21 from downtown. An impressive rebounding team through their first three games, the Hawks were outplayed on the glass in the first half, losing the rebounding battle by nine. They shaped up considerably in the back half of the game, but still finished minus-5 in the area.
The Cavaliers entered halftime up 18 points with a score of 39-21.
In the second period, the Hoos took their foot off the gas pedal a little. Head Coach, Tony Bennett, allowed many of the second unit players extended minutes and the team cruised their way to victory. End-of-the-bench players, Trevon Gross, Justice Bartley, and Austin Katstra all saw the court as the game drew to a close, and Katstra's baseline jumper was the exclamation point on the win.
Takeaways:
De'Andre Hunter is Special-
This breakout performance was reminiscent of Jay Huff's debut against Austin Peay last week. Like Huff, when Hunter gets into a rhythm, he's hard to stop. He shot 8-10 on the day, only missing on two long three-pointers, and also made six of his seven attempts from the line. He showcased an ability to score in a variety of ways; hitting jump-shots, backing down in the post, and cutting to the rim. His length and height are tremendous assets, allowing him to defend and rebound effectively, which allows him to affect the game even when his shot is not falling. If he is able to develop any kind of consistency with his offense, he could find himself playing a very large role on this team.
Next Man Up-
Each of the Hoos' wins this season have seen different players have big games. Although Kyle Guy has performed well in every game, other players have stepped up around him in each contest. Through four games, there have been offensive eruptions from Devon Hall, Kyle Guy, Jay Huff, and now De'Andre Hunter. This makes it very difficult for opposing teams to plan for Virginia as on any given night, any individual player is liable to dial in and produce more than expected. This is different than in previous years where Virginia has had a clear-cut, go-to man for scoring, such as London Perrantes, Malcolm Brogdon or Joe Harris. As the matchups get more competitive, it will be interesting to see how Virginia handles not having a clear leader on offense, or if one emerges.
Final Thoughts:
–Mamadi Diakite played very consistently through this contest, scoring five points in each half, along with six rebounds. He also had one block.
–Jack Salt got into early foul trouble and was limited to only 13 minutes of play. This has been an ongoing problem throughout his career.
-The Hoos play next on Thursday against Vanderbilt. The game will be played at the Barclays Center in Brooklyn.