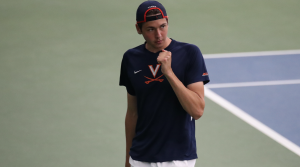 After topping Duke 4-0 in its eighth-straight win on Friday, the Virginia Men's Tennis team earned a dominating victory against the University of North Carolina at Chapel Hill by a score of 6-1. Both teams entered the contest undefeated this season and tied for #1 in the ACC. The Virginia victory was far from assured, as North Carolina had defeated Virginia 4-2 in the lead-up to the ITA National Indoor Championship earlier this year. However, on Sunday afternoon the Virginia squad overwhelmed the Tar Heels on the indoor courts of Boar's Head Sports Club. 
After the match, UVA Head Coach Andres Pedroso remarked, "There was great composure, great energy today. We knew that we could play with anyone; this just solidifies that rankings don't really mean anything … You can beat anyone."
In the audience today, cheering on the Wahoos, were former Virginia players Aswin "Ash" Lizen, who joined the ATP tour for 2 years before recently starting a career in investment banking, and Thai-Son Kwiatkowski, who won the 2017 NCAA Men's Singles Championship and is now ranked 224 in the ATP. 
Commenting on their presence, freshman player Chris Rodesch said, "UVA Tennis is like a family, like a brotherhood. It's great showing them that the work they did years before is showing now."
Virginia lost its first doubles match, but evened the score when Jeffrey Schulenburg and Inaki Montes finished their match at 6-4. After this victory, the pair have amassed 9 straight wins and a 12-2 record. The fate of the doubles point rested in the hands of the #1 team, consisting of Carl Soderlund and William Woodall, who narrowly pulled ahead of their opponents in a 7-2 tiebreaker and secured the doubles point. 
The first singles match was quickly concluded in Virginia's favor when Schulenburg's opponent Rinky Hijikata retired with injury; Schulenburg had led with a score of 1-0. The Cavaliers mostly proceeded to win their first sets with ease, as Soderlund finished his first set at 6-3 and Chris Rodesch, Ryan Goetz, and Montes each led by 6-2. The only player not in the lead was Woodall, who dropped his first set 3-6. 
Commenting on Hijikata's injury, Coach Pedroso said, "I hope he's okay. He's a great player, great guy, and so hopefully he'll recover from that."
The Hoos continued their momentum into the second set with Goetz announcing his 6-2, 6-3 victory against Simon Soendergaard, ranked ITA Singles No. 74. This victory gives Goetz his eighth straight win in ACC singles play. Woodall bounced back from his first set loss, forcing a third set after finishing his second set 6-4. The clincher was won by Rodesch, who won 6-2, 6-3 against ITA Singles No. 58 Benjamin Sigouin after having lost to him in doubles. 
Rodesch said that the "atmosphere was very intense" and "the crowd helped, even in limited capacity." He described his own match as "tough" as his opponent Sigouin had a "great serve and was great from the baseline." 
With the Cavaliers leading 4-0, the two teams decided to play out the remaining three matches. The 98th-ranked Montes announced his 6-2, 6-4 victory against 41st-ranked Brian Cernoch, marking the third time that a Hoo defeated his higher ranked opponent this match. Woodall continued to be engaged in a tight battle against Mac Kiger, but ultimately lost the third set super tiebreaker 7-10, resulting in the Tar Heels' only win of the match. On court 1, Carl Soderlund and UNC Team Captain William Blumberg dueled it out in a close second set that ultimately resulted in a Cavalier tiebreaker victory. 
After handing the Tar Heels their first loss of the season, the Cavaliers have now won 9 consecutive matches and lead the ACC at 9-0. Up next, Virginia will face Virginia Tech (#5 ACC, 5-4) on April 1 in the Cavaliers' final match at Boar's Head Sports Club this season. Last week, the Hokies were defeated by the Tar Heels 0-7.
---
For more WUVA coverage of the Virginia Men's Tennis team, click here.