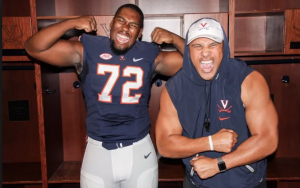 Virginia football coach Bronco Mendenhall has secured the highest rated recruit of his career at UVa — Jowon Briggs, four-star defensive tackle from Cincinnati, Ohio. He is among the top players in the country and held offers from several college football powerhouses. Briggs stands at 6-foot-2 and weighs 295 pounds. 
According to Briggs, Virginia defensive line coach Vic So'oto — in his second season at UVa since joining the program in 2016 — convinced him to give the Cavaliers a serious look during his unofficial visit to Grounds.
"My visit to Virginia was unofficial, and we got there late the night before the visit began," Briggs told 247 Sports. "I'm a big first-impression guy, and I had a good feeling about Coach So'oto before I ever stepped foot on campus. I had the best relationship with him over any other defensive line coach. I felt comfortable with Virginia from the minute I got on campus."
Though Briggs also fielded elite offers from Alabama, Ohio State, Notre Dame, Michigan, Michigan State, Penn State, Tennessee, Wisconsin — and more! — he chose Virginia ultimately for its unique combination of stellar academics, support from the University community, and vibrant student life outside of football.
"I also met with the head of the engineering program, and with academics meaning so much to me, this also made a great impression on me," Briggs said. "He made me and my family feel comfortable about the education I will receive at Virginia…I spoke with Coach Mendenhall, and he told me how I was going to be a great fit for the program on the field, but also a great person for them to bring in to the program off the field."
Briggs went on to explain the importance of feeling welcome at his school of choice both as a celebrated athlete and as a typical student.
"That was a big thing for me," he said, "because aside from football there was classroom, friends and life outside of football. This trip was business for me, not a trip to have fun, and it was easy for me to see that [Virginia] was the right school for me. I won't be taking any other official visits other than Virginia, so my recruitment is now over."
Briggs is the fourth-highest-rated commitment in the ACC so far from his class. After Virginia football's loss of Ben Smiley III earlier this month, the enthusiastic commitment from Briggs serves as much-needed reassurance that Coach Mendenhall's team has a bright future.
Briggs announced his decision on Twitter, tagging So'oto in the message.
"Thanks to anyone and everyone involved in recruiting me," he wrote. "I know that this decision is the best one I can possibly make. I'm proud of it. I've never smiled so brilliantly on a trips [sic]. I'm committed."
The addition of Briggs arrives in the midst of a busy week for the Cavaliers. Mendenhall has received commitments from eight more impressive players, many of whom turned down offers from prestigious programs — including Duke, Syracuse, Auburn and Georgia Tech — in favor of Virginia.
Briggs has one year left of high school before he arrives on Grounds for the first time as a new student. In the meantime, he plans to become an even better player in anticipation of his debut at Scott Stadium.
"I guess you catch a lot of players catching a lot of breaks and stuff after the football season," Briggs told The Daily Progress, "but sadly I don't think that's the route I want to take."