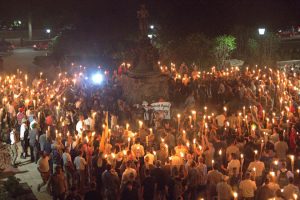 Fourth-year University of Virginia student Jamie Swanson had just accepted a job with a documentary production crew when they asked if he could help them film this weekend's "Unite the Right" rally. The event brought together white nationalists, also known as the "alt-right," to oppose the removal of a statue of Robert E. Lee from Emancipation Park in downtown Charlottesville, Va.
Armed with camera equipment and a little extra cash from his new job, Swanson trailed behind the crew's cameraman as the two followed a procession of protesters on their march to the Rotunda last Friday night. He watched in horror as the UNESCO World Heritage site was illuminated by a sea of torches.
"I… had to harness my emotions a lot," he tells WUVA News. "That memory will be in my head for a long time."
The fiery mob quickly descended into a frenzy of fists and pepper spray as Ku Klux Klan members and neo-Nazis clashed with counter protesters. It was at this point that
University Police declared the gathering an "unlawful assembly" and disbanded the crowd.
When Swanson woke up the next morning, what he saw was just as overwhelming: the main rally once again drew dozens of white nationalists, whose scuffles with counter-protestors ultimately turned violent. One alt-right supporter even plowed through a crowd of peaceful counter protestors in a Dodge Charger, injuring nineteen activists and killing thirty-two-year-old Heather Heyer.
Third-year student Susannah Gilmore was at the Downtown Mall when the attacker slammed his car into the vehicle beside her, hurling the second car into Gilmore and her boyfriend and knocking them to the ground.
"It was probably the scariest moment of my life," Gilmore says. "It was terrifying. I saw people fly up into the air… a bunch of people were laying there in the street."
Gilmore says she scrambled to help the people around her, some of whom were going into shock. According to Gilmore, the police did not arrive on the scene for a few minutes, although she could see some officers sitting in their patrol car "watching everything."
"I would've at least expected them to get out and help," she recounts. In a press conference on Monday, one reporter asked Charlottesville Police Chief Al Thomas whether he or the city's mayor had told officers to stand down until given explicit permission to take
action in circumstances like this one. Thomas denied the existence of any such order.
Once the ambulances arrived, paramedic staff worked quickly to transport all of the injured to the University of Virginia Medical Center. Nineteen victims were stabilized.

Unlike Gilmore, fourth-year student Kendall Jordan was at his last day of work about an hour away in Richmond, Va., when he saw the atrocities unfold on TV. As "millions" of texts poured into his phone from friends and family, he realized that there might be a silver lining in what was otherwise a terrible situation: an opportunity for dialogue.
"We all just have to be together," he says. "My goal would be just to bring the community closer together not just for UVA students, but for the whole county."
Jordan spoke with his fraternity brothers in Alpha Phi Alpha, and within a few minutes, one of his brothers penned the hashtags #HoosAgainstHate and #WeAreCharlottesville, sparking a social media firestorm among students and the Charlottesville community.
They also arranged a conference call for locals to voice their concerns and fears, allowing dozens of students, parents, and members of the community to come together, even in a small way.
"We're all one and we need to start acting like it," he says.