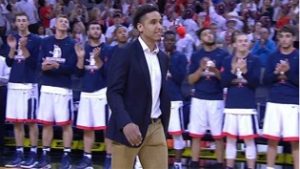 For much of the NBA season leading up to now, Joel Embiid has been considered a runaway lock to win the NBA's rookie of the year. Though drafted in 2014, Embiid is still a rookie due to missing the entirety of his first two seasons due to a foot injury. In his time on the court this season, Embiid has been remarkable. Embiid leads all rookies in nearly all statistical categories, putting up averages of 20.2 points per game, 7.8 rebounds per game, and 2.5 blocks per game despite only averaging 25.4 minutes per game. In the old all star voting format, consisting of solely the fan vote, Embiid would have been named a starter.
Then, he went down to injury in January. He missed 14 of 15 games at one point and rumors began swirling that the 7-foot-2 big man from Cameroon has a partially torn meniscus in his knee. On Monday came the news that Embiid is out indefinitely due to soreness in that knee and will undergo further MRIs. To this point, he has only played 31 games. In history, the fewest number of games played by an NBA rookie of the year is Patrick Ewing's 50 in 1986.
Safe to say, Embiid's loss is Malcolm Brogdon's gain. As Embiid misses games, Brogdon continues to play well. Brogdon boasts averages of 9.5 points per game, 4.2 assists per game, and 2.6 rebounds per game. Those numbers continue to rise as he receives increased playing time. Brogdon has a few highlight dunks to his name throughout the season over the likes of LeBron James, Kyrie Irving, and Nerlens Noel. He shined Monday night in primetime against the Cleveland Cavaliers. Brogdon scored 20 points on 8-15 shooting and 3-6 from distance in an efficient 31 minutes.
As he continues to produce efficiently, he is gaining increased respect from the media. Over the NBA All-Star Weekend, Brogdon was selected to participate in the NBA Rising Stars Challenge with some of the game's best young talents. If Embiid misses the rest of the season, the award would likely come down to a competition between Brogdon and Philadelphia's other rookie, Dario Saric. Saric was recently promoted into Philadelphia's starting lineup and sports averages of 11.1 points per game, 6.2 rebounds per game, and 1.8 assists per game. Saric shoots lower percentages from the field at 40% and only shoots 31% from downtown.
Embiid, Brogdon, and Saric appear to be the only three candidates with a legitimate chance at winning the NBA's rookie of the year. What once looked like a blowout has turned into a suspenseful race to keep an eye out for as the regular season winds down. The Rookie of the Year would be the latest among a lengthy list of accomplishments for U.Va. icon Malcolm Brogdon.