The family of late UVa lacrosse player Yeardley Love has withdrawn their wrongful death lawsuit against George Huguely V, Love's former boyfriend who was convicted of second-degree murder in her 2010 death. Huguely was sentenced to 23 years in prison in 2012 and was due to face a $29.45 million civil trial in late July, until Monday when Charlottesville Circuit Court Judge Richard Moore granted the Love estate's request for a nonsuit.
A nonsuit allows the Love family to withdraw their original request for damages and refile within six months. The family's decision comes after four federal judges ruled that Huguely's insurance company will not be held liable for Love's murder, reducing the amount of money her family could receive in the case.
Huguely and Love were both fourth-year College students and varsity lacrosse players at the University when he broke into her 14th Street apartment and killed her in the early hours of the morning on May 3, 2010. Love died when Huguely, her ex-boyfriend, shook her and beat her against the wall repeatedly. Authorities discovered that he sent her an email on April 30 expressing anger that she had begun a new relationship, writing "I should have killed you." The medical examiner ruled that the cause of death was blunt force trauma to the head.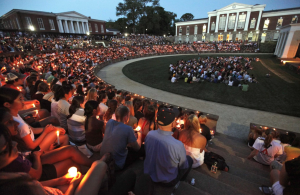 Love's murder rattled both her hometown of Baltimore, Maryland and the University community. Her mother, Sharon Love, and sister, Lexie Love Hodges, have since established the One Love Foundation to combat relationship violence and abuse. University students hosted a "Run for Yeards 5K" fundraiser in support of the organization earlier this year.
Sharon Love hopes that her foundation will prevent similar deaths and educate families on what she describes as a poorly-understood epidemic of relationship abuse among college-aged couples.
"When the police officers came to my door that morning, I had never had a worry about relationship abuse," Love wrote on the foundation's website. "It just wasn't on my radar screen. My biggest concern for Yeardley had always been that she would be injured on the lacrosse field or, even worse, be hurt in a car accident. To hear that someone she had cared for had hurt her — let alone killed her — was and still is beyond my comprehension. I didn't know then what I know now…that young women in Yeardley's age group are at a [three-times] greater risk for being in an abusive relationship than any other demographic."
The Love family has six months to decide whether or not to refile their wrongful death lawsuit against Huguely. If they pursue a new case, the outcome of their original request for damages will not prejudice the resolution, as a plaintiff is allowed one nonsuit without explanation under Virginia law.
Huguely has admitted legal responsibility in the case and is scheduled to be released from prison in late 2029.
For more information on the One Love Foundation, click here.