The Virginia Cavaliers turned in their worst performance of the season this past Saturday, losing to Boston College 41-10. Despite having a chance to qualify for its first bowl game since 2011, Virginia came out flat to start the game and was never able to get things going. Below are the keys to the game, as well as a look forward to Week Nine's matchup against Pittsburgh.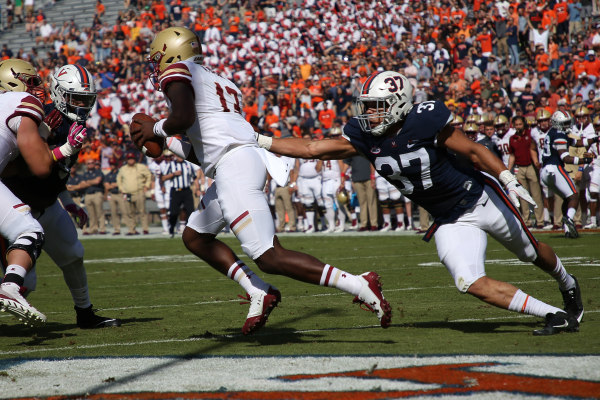 Keys to the Game:
Explosive Plays: Boston College had lots of them, and UVa had none. The Eagles, in racking up 512 yards of total offense, displayed an explosive side of their offense that had been previously unseen this season. Wide receiver Thadd Smith had a 76-yard rushing touchdown in the first quarter, and wide receiver Kobay White took a screen pass for 76 yards and a touchdown on the very next drive. Boston College also had success with the deep ball, completing passes for 46, 29, and 28 yards; in contrast, the Cavaliers' longest play of the day was a 20-yard rush from running back Jordan Ellis, and their longest passing play was only 19 yards. Quarterback Kurt Benkert struggled with accuracy throughout the game and was not helped by numerous drops from his receivers. Benkert barely missed wide receiver Andre Levrone on two deep balls in the first half, but those were the only serious big-play threats UVa was able to muster. The lack of explosion hurt in other ways too – the Homecomings crowd at Scott Stadium was taken out of the game midway through the first quarter after the Eagles went up 17-0, and they never really had a reason to get back into it. The aggressive Cavalier defense has been vulnerable at times to big plays under Bronco Mendenhall's tenure, and on Saturday those plays proved to be their downfall.

Third-Down Conversions: Virginia does not have a big-play, explosive offense; instead, they like to use the power running game to put together meticulous drives that take several minutes off the clock. This requires converting first-downs and moving the chains, neither of which happened this week. The Cavaliers went three-and-out on their first four drives of the game, giving the ball right back to a red-hot Boston College offense and forcing an exhausted UVa defense back on the field. Virginia finally put together a 14 play, 59-yard scoring drive at the end of the second quarter that took 7:07 off the clock, but that was the only time the Cavaliers looked like they had found any sort of rhythm. Part of the issue was the inability to establish a credible ground game – Ellis averaged 4.8 yards per carry, but the 'Hoos were only able to tally 95 yards on the ground.
The Eagles had no such struggles. They converted an impressive seven of nine third-downs in the first quarter alone, 10 of 15 through three quarters, and 10 of 19 for the game. These conversions were key in allowing them to put together two different touchdown-scoring drives of 15 plays, one that went 85 yards and another for 92 yards, which simply broke the back of the Virginia defense. The Boston College attack was very balanced: they ended with 237 yards on the ground and another 275 in the air. BC was particularly successful getting the ball to their tight ends, who combined for seven receptions for 88 yards and two touchdowns. UVa's linebacker group has struggled at times in coverage, and the Eagles exploited this on numerous occasions to great effect.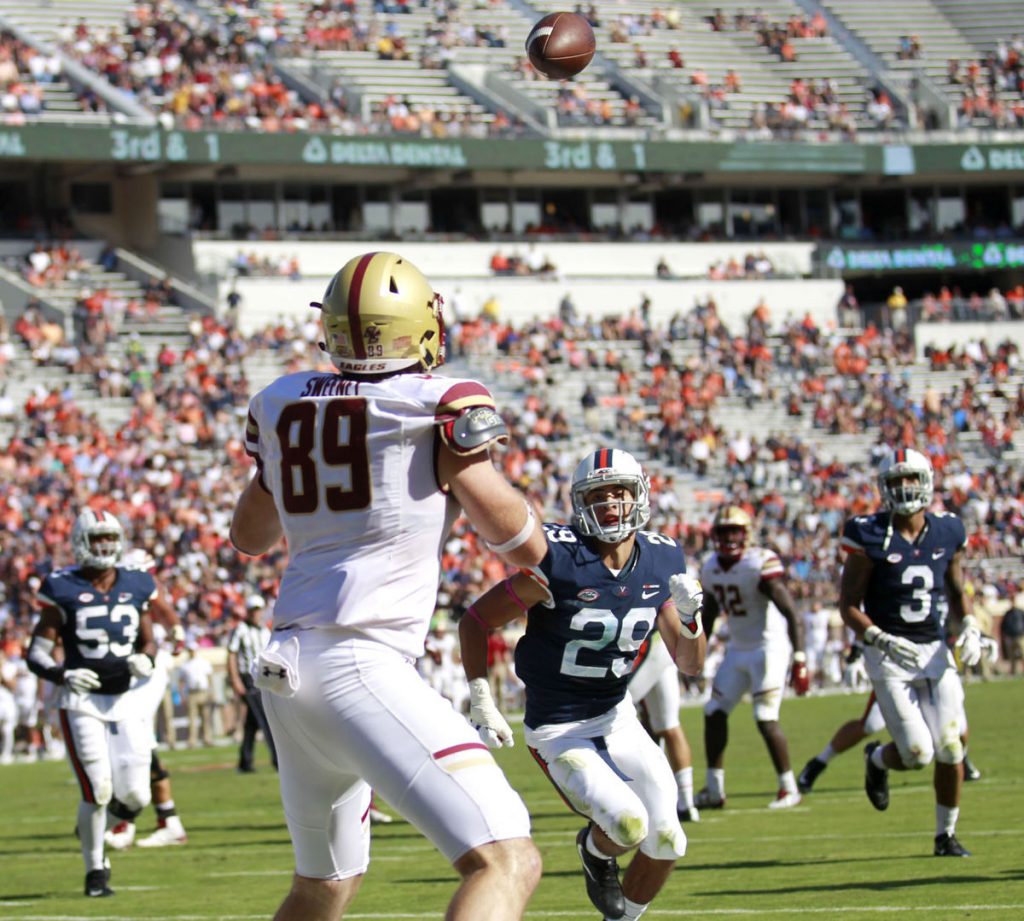 Special Teams Execution: Despite difficult days for the offense and defense, the Virginia special teams unit actually had an excellent day. Punter Lester Coleman, whose seven punts averaged over 52 yards apiece, was busy early and often, and without him, it might have been even easier for Boston College. His first two punts were downed inside the 10-yard line, and the Eagles tallied only six total punt return yards. Kicker AJ Mejia did all that asked of him – he hit a career-long 38-yard field goal in the second half, and converted his only extra point attempt of the day. The return men were also effective: wide receiver Joe Reed took a kickoff back for 42 yards, and running back Daniel Hamm averaged a healthy 6.3 yards per punt return. Special teams play has steadily improved as the season has progressed, and they were the lone bright spot on an otherwise dreary afternoon.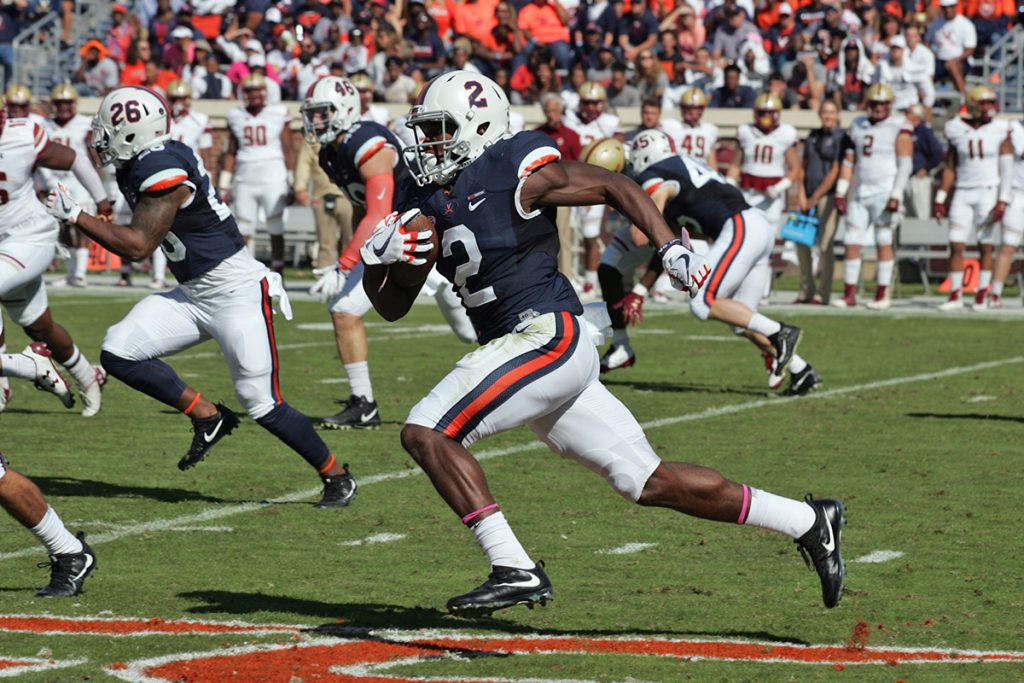 Player of the Game: WR Olamide Zaccheaus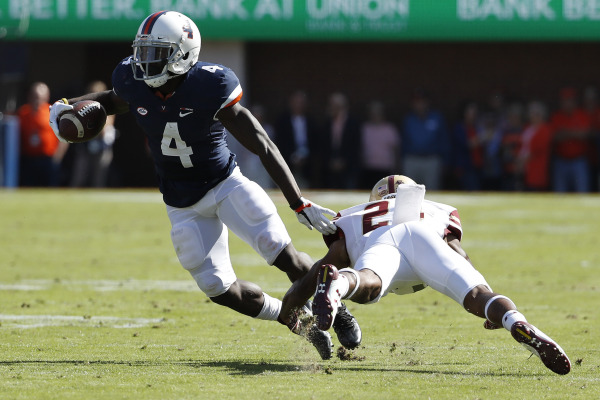 Lester Coleman had a nice day, and safety Quin Blanding had 13 tackles to move just four shy of becoming the all-time leading tackler in Virginia football history. But wide receiver Olamide Zaccheaus was the most consistently impactful performer for the Cavaliers. He had six receptions for 57 yards, and added 12 more yards on the ground; more importantly, he converted two first-downs on Virginia's only scoring drive, and drew a pass interference penalty that put that 'Hoos on the 2-yard line and allowed Reed to dive over the goal line for the only touchdown of the day.
Next Week: Saturday, October 28th vs. Pittsburgh (3-5), 12:30pm EST at Heinz Field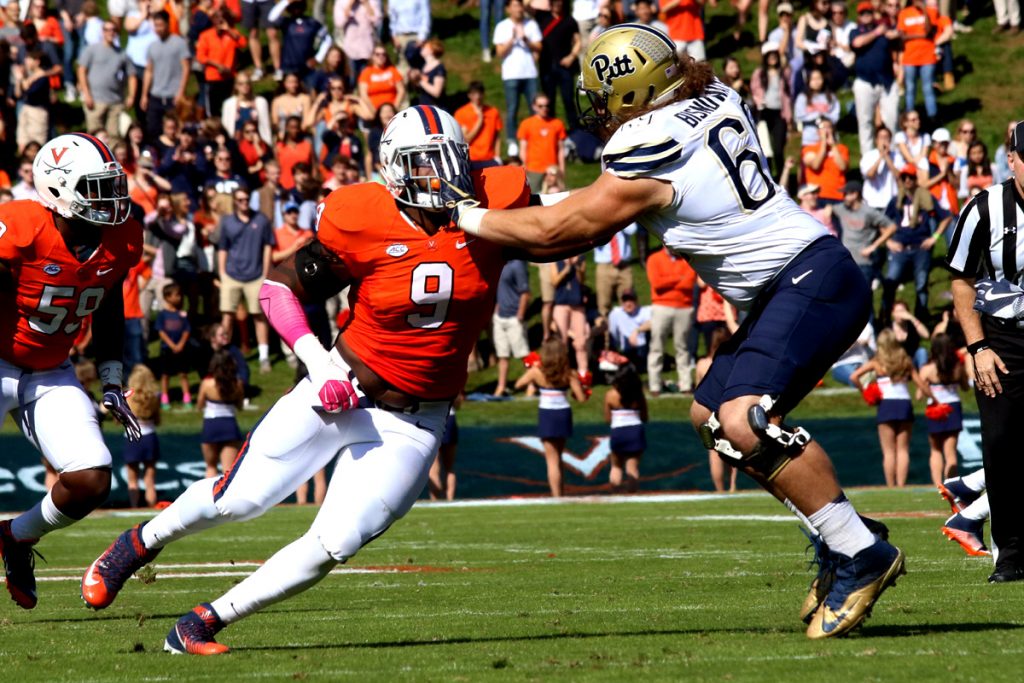 The Cavaliers will again look to qualify for a bowl game when they head to Pennsylvania to play the Pittsburgh Panthers on Saturday. Pitt, who had lost four of their previous five games going into Week Eight, went down to Durham and upset Duke behind a monster day from running back Darrin Hall. Hall rushed for 254 yards and three touchdowns, including scoring plays of 79 and 92 yards. Expect the Panthers to lean on their ground game – starting quarterback Max Browne had season-ending shoulder surgery two weeks ago, forcing sophomore quarterback Ben DiNucci into a starting role a year earlier than expected. The Panther defense has had a rough start to the season, allowing opposing offenses to score over 31 points and gain nearly 445 total yards per game. As usual, Virginia will need to establish Jordan Ellis and the ground game early if the offense is to get back on track. Despite a poor showing against the Eagles, the 'Hoos will have a good chance to do just that, as Pitt allows 176 rushing yards per game. A return of the power running game will hopefully allow the Cavalier offense to get back on track.