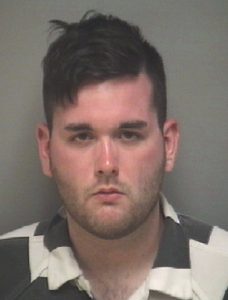 James Alex Fields, Jr. was charged with 30 federal hate crimes on Wednesday afternoon. He is accused of plowing his car into a crowd of anti-fascist protesters during the Aug. 12 "Unite the Right" rally, killing 32-year-old Charlottesville resident Heather Heyer. Dozens more people were injured when Fields allegedly drove straight into a large group of pedestrians on the Fourth Street crossing downtown.
Fields already faces charges of first-degree murder in Heyer's death, as well as accusations of malicious wounding and failure to stop at the scene of the crash. He has been held by the state since the end of the Aug. 12 "Unite the Right" rally, which brought together members of the Ku Klux Klan, so-called "white power skinheads," neo-Nazi groups and other far-right organizations.
According to The Daily Progress, Fields deliberately struck numerous individuals with his car, aiming at an ethnically diverse crowd of counter-protesters — many of whom carried signs promoting racial equality and an end to white supremacy. Others affirmed the City's plan to remove Emancipation Park's statue of Confederate General Robert E. Lee.
New charges brought down against Fields by a federal grand jury include 28 counts of hate crimes "causing bodily injury and involving an attempt to kill," with an additional hate crime act that led to Heyer's death. He is also charged with "one count of racially motivated violent interference with a federally protected activity" — in other words, Heyer's right to civil assembly.
If convicted, Fields, 21, who traveled to Charlottesville from Maumee, Ohio, for the "Unite the Right" rally, could spend the rest of his life in prison. He could also face the death penalty, though prosecutors are still deciding whether to pursue capital punishment.
Attorney General Jeff Sessions provided his thoughts on the case Wednesday, condemning Fields and inviting comparisons to President Donald Trump's past comments, which drew accusations that President Trump was "giving a free pass" to racists.
"At the Department of Justice, we remain resolute that hateful ideologies will not have the last word and that their adherents will not get away with violent crimes against those they target," Sessions said in a statement. "Last summer's violence in Charlottesville cut short a promising young life and shocked the nation."
Fields's high school teacher, Derek Weimer, told the Associated Press that his former student had "deeply held, radical" views, making his support for the Holocaust and self-professed white nationalism known to his classmates as early as the ninth grade.
"It was a known issue," Weimar said. "Once you talked to James for a while, you would start to see that sympathy toward Nazism, that idolization of Hitler, that belief in white supremacy. It would start to creep out."
Fields's federal indictments will have no effect on the pending state case against him. He is expected to appear in federal court as soon as next week. U.S. Attorney Thomas Cullen described the civil rights accusations against Fields were "the most serious possible under federal law."
Heyer's mother, Susan Bro, told The Daily Progress that she was unsure of her feelings on the death penalty in Fields's case.
"I don't know how I feel about it," Bro said. "I think it's a tragedy all the way around. I lost my child, but he's also so young to be so stupid, and I really hate that for him. But I didn't make his choices — he made them…[Meanwhile,] there's Heather the real person and Heather the symbol, and trying to find the difference between the two is sometimes a little challenging. She's still my baby girl."