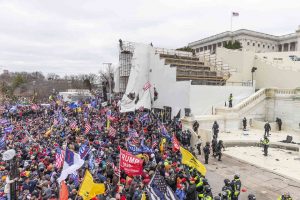 As Washington recovers from last week's insurrection, Charlottesville Tomorrow reports that among those present at the assault on the Capitol were the Virginia 5th District's GOP chairman, Melvin Adams, and his wife Sandy, who serves Congressman Bob Good as district director. After the Jan. 6 violence, in which a mob of rioters stormed the Capitol to disrupt Congressional certification of Electoral College results, Adams described his experience at the center of the chaos in an email obtained by local news outlets. Adams confirmed the authenticity of the email to The Washington Post. He and his wife's presence at the Capitol has resulted in at least one complaint to the FBI by Good's constituents.
Adams denied participation in the assault on the Capitol Building itself, but said that he and his wife entered the crowd "to join with many, many thousands of wonderful red-blooded American patriots."
"We tried talking some people down who were trying to push back and open the [police] barriers … I did witness the use of flash bombs and tear gas at the entrances in efforts to control the crowd," Adams wrote. "But the tragic nature of events inside came home full force when a young lady who had been shot [Ashli Babbitt] was being taken to the ambulance, passing so close to us that we could have literally reached out and touched her."
Despite his proximity to 35-year-old Babbitt, who later succumbed to her gunshot wounds, Adams described the crowds on the morning of Jan. 6 as "joyful, energetic, peaceful, prayerful, hopeful and courteous." Though his fellow demonstrators instigated a violent siege after a call to action by President Donald Trump, Adams stated that he and his wife "were there to support law enforcement." Yet the mob injured dozens of policemen and caused the death of United States Capitol Police Officer Brian D. Sicknick.
David Singerman works with Indivisible Charlottesville, a community organization dedicated to opposing President Trump's agenda. Singerman told Charlottesville Tomorrow that he was unsurprised to hear of acquaintances and staff of Good at the Capitol.
"It's further evidence of Good's participation in and endorsement of the insurrectionist conspiracy," Singerman said. "He supported the goals of this mob. He voted to overturn the election results after the mob had done its damage to the Capitol and threatened his colleagues in Congress."
Singerman also rejected Adams's statement that he and his wife — who is Congressman Good's district director — did not participate in the mob.
"Even if she [Sandy Adams] didn't sack the Capitol itself, she's still at a rally where people around her are waving Confederate flags and there's pro-Holocaust T-shirts and people armed to the teeth," Singerman said. "Nobody accidentally winds up at a Nazi or fascist rally."
Aynne Kokas, who studies foreign affairs as a senior fellow at the University's non-partisan Miller Center, urged Republican leaders like Good — who supported the president's failed attempt to prevent certification of his opponent's electoral victory — to cease "turning away from democratic processes."
"With violent protest literally within the halls of American democracy, it is essential to remember [our] commitment to institutions and the peaceful transfer of power," Kokas wrote. "U.S. leaders must affirm that they value representative democracy not only as a concept to use as a rallying cry against foreign countries, but as a tool for the peaceful transfer of power in this nation … The storming of the Capitol was frightening — for the people inside, the people of America, and the people of the world. Now is a moment to take that fear of losing something so precious as our fragile democratic institutions and use it as an opportunity for a renewal of the commitment to U.S. democratic institutions within both parties."
For his part, Good did not answer The Washington Post's questions about his district director's presence at the Capitol on Jan. 6, but denounced the riot.
"I unequivocally condemn the violence that took place at our Capitol last week," Good said. "The rule of law must be upheld in order to preserve our Constitutional rights, including the First Amendment right of every American to peaceably assemble on their own time at a rally or a protest."