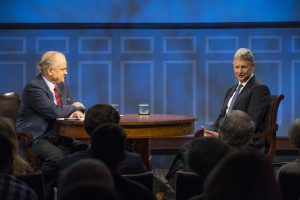 Libertarian presidential nominee and former governor of New Mexico Gary Johnson spoke at the Miller Center on Monday, October 17th, as part of the Center's televised American Forum series. Johnson aimed to make the case for the Libertarian party, a party that he believes a majority of voters agree with, "they just do not know it   yet."              
"Fifty-percent of people, when they are going to register to vote, are registering as independent," Johnson says, "where is that representation?" He claims to be that representation, giving voice to the fifty-percent of Americans that fall between the "two most polarizing people [to] ever have been chosen" by the Republican and Democratic parties.
But what does it mean to be a Libertarian? Doug Blackman, host and facilitator for the American Forum series, began the conversation with this question to clear up some confusion surrounding the party's identity.
"Very broadly speaking," Johnson says, "[Libertarians are] fiscally conservative, socially inclusive, skeptical when it comes to our military interventions […] and then support free market."
After being shut out of all three presidential debates, his chances of becoming president have gone from slim to slimmer; but, for Johnson, this campaign is about more than four years on Pennsylvania avenue.
"[I am] breaking up the two-party system. I am leading among independents currently, I am tied for the lead among millennials ages 18-34, and I am leading among active military personnel by a wide margin. So giving people their first vote, I am pretty proud of that." Governor Johnson said.
He believes that the strong support from Millennials signals a successful future for the Libertarian party. Elizabeth Porfaci, third-year student at UVa and executive board member for the Students for Individual Liberty CIO, agrees.
"I just feel like this election and Johnson's policies more identify with my views." Porfaci told WUVA news.
First-year Caroline Oyler, who attended Gary Johnson's forum, is voting Libertarian as well.
"I'm going to vote for Gary Johnson because I feel he is a lot more moderate […] I do not like the strict Republican Party, which is why I am Independent and I think Gary Johnson represents that well," stated Oyler.
Concerns about the future of the two-party system have been raised, some believing that this election could bring about its end. With this in mind, it bodes well for Johnson to appeal to young voters, as polls show he is. A third-party candidate has never been elected President; however, they have impacted elections in various ways. Johnson's goal now is to maintain a viable future for the Libertarian party and, hopefully, keep both Hillary Clinton and Donald Trump from reaching the two-hundred and seventy electoral votes needed to become President of the United States.