In the last weeks before the fall semester ends, many students' minds are teeming with concerns about group projects, lengthy papers, and final examinations. But fourth-year student Lauren Jackson will be going home this Winter Break with at least one burden lifted off her shoulders: paying the costs of tuition to pursue a PhD at Oxford next fall.
Jackson was selected in November to receive the world's oldest and most prestigious international fellowship award, the Rhodes Scholarship. The scholarship provides full financial support to award recipients who are chosen "not only for outstanding scholarly achievements, but for their character, commitment to others and to the common good, and for their potential for leadership in whatever domains their careers may lead."
Earning the honor was no small feat. After being nominated by the University, compiling 9 letters of recommendation, and writing a 1000-word essay, Jackson still had to endure a grueling interview process.
Randomly pulling the earliest time slot for her final interview, the Little Rock, Arkansas, native was forced to wait in suspense for hours as interviews wrapped and the judges' deliberations finally came to a close. Out of an original pool of 882 applicants, Jackson heard her name called.
She had made the list of 32 award recipients nationwide.
"It felt like crossing the finish line of a really long marathon," she told Matt Kelly of UVA Today.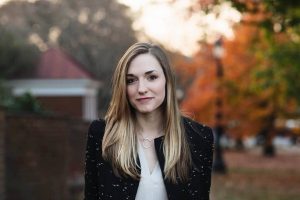 But before her recent recognition as a Rhodes scholar, Jackson was already a CNN freelance reporter, United Nations intern, and Jefferson scholar who has left a mark on the University that she will soon call her alma mater.
A Political and Social Thought major, Jackson has served as President of the Latter Day Saint Student Association, creative director for V Magazine, University Guide, conference co-curator for TEDxUVA, columnist for the Cavalier Daily, member of the Raven Society, and intern for CNN's The Situation Room. The list continues.
She credits her experience at UVa with playing a significant role in getting her to where she is today.
"Attending UVa, period, has given me a breadth of a liberal arts education that I wouldn't have pursued had I gone to another school," she says. "I really thought I wanted to go to a journalism school, and I am really happy I didn't simply because that would have given me a pre-professional degree that would not have enabled me to explore all the different things that I was able to explore through the resources offered to me at UVa."
One of those resources was Jefferson Public Citizens, a University organization that provided Jackson with a fully funded research grant to allow her monitor and evaluate women's ventures in East Africa in 2014. One year later, she received yet another research grant from the UVa Center for Global Health to sponsor her self-guided health and sanitation study in Southern Rwanda.
Along with undertaking these projects, Jackson furthered her long-time passion for international relations and civil rights largely through her time as a Political and Social Thought major at the University. She says that it is this program that has fostered such a deep bond between not only herself and her interests, but between her and her peers.
"That's something that I wouldn't have had the opportunity to do in such depth and in such richness at another school, and so I am deeply grateful to UVa for the research funding it provides and for its emphasis on liberal arts education, small seminars, and an exposure to a variety of perspectives that I think other state schools have a hard time providing to students."
Accompanied by fellow University of Virginia student and Rhodes scholar, Aryn Frazier, Jackson will attend Oxford next fall. Continuing her passion for humanitarianism and the media, she will pursue a Master of Philosophy degree in International Relations.