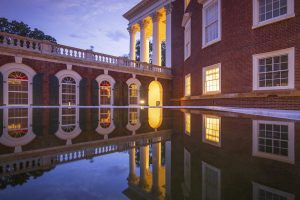 On Wednesday afternoon, University President Jim Ryan announced that final exercises for the Class of 2021 will not proceed as usual due to the ongoing COVID-19 pandemic. Celebrations will be at least partially online, with Ryan's administration still deciding whether any modified in-person events can take place for graduating students. While plans have not been finalized, the University will not be able to accommodate guests due to restrictions on gathering size and travel advisories by the Commonwealth of Virginia. The Class of 2021 will be surveyed to communicate their preferences.
In an email to graduating students, Ryan expressed regret but emphasized the necessity of the administration's decision.
"I am sorry to say that, given the pandemic, we are not going to be able to hold Final Exercises as usual this May," he wrote. "The challenge remains around the size of gatherings permitted by the Commonwealth of Virginia and travel advisories, both of which preclude us from being able to host a ceremony that families and friends can attend."
The Class of 2021 therefore joins the Class of 2020 in having their graduation plans upended by COVID-19. Last April, when the pandemic forced the cancellation of the normal ceremony, University officials originally planned for the Class of 2020 to walk the Lawn either in October 2020 or May 2021. While the community hoped that large, in-person gatherings would be possible well before the following year's graduates received their diplomas, the spread of the virus proliferated, with the UVA COVID tracker reporting 1,548 cases in fall 2020 and 1,616 so far in spring 2021 as of March 3.
Ryan explained that the precise nature of this spring's final exercises is yet to be determined.
"We are, however, considering two alternatives: (1) holding modified graduation events this spring that involve only our graduating students but no guests; or (2) postponing graduation events to a future date when we could host families as well as students," he wrote. "In either case, we will confer degrees and produce a celebratory virtual event for students, friends, and families this May. The Finals 2021 Advisory Committee, composed of students, faculty, and administrators, will be surveying graduating students to inform this decision, and we will update you as plans progress.  But for those making plans, please know that we will not be able to accommodate any guests this May, regardless of whatever option we ultimately pursue."
Ryan acknowledged that 2021 graduates will be disappointed at the news, if not necessarily surprised; in February, the University community witnessed record-breaking positive COVID-19 tests, resulting in enhanced public health measures for a period of 10 days. The University has since announced progress in limiting the spread, but the larger pandemic across Virginia has not yet reached a point where large-scale events are permitted by the government to proceed.
Nevertheless, Ryan told graduates that the University still wishes to mark their achievements, if not in the usual way.
"I know this is not the way you expected to end your time at UVA, nor is it the way we would like to celebrate your accomplishments," he wrote. "Still, I remain confident we will be able to celebrate and honor your class in a way that will be both meaningful and memorable. I thank you for your patience, perseverance, and caring for one another and for the University."