Beginning this Friday, UVA students may select either the traditional grading (A-F) or COVID Credit/General Credit/No Credit (CR/GC/NC) option for their courses this semester.
The deadline to confirm this decision is Friday, Apr 30. Students will not be allowed to adjust their grading option past this deadline.
Overview of COVID grading options
A grade of Credit (CR) will be awarded to students who attain a C or higher in their course. For this semester, CR will meet all undergraduate degree requirements. This includes pre-requisites, general education, as well as major or minor requirements. 
A grade of General Credit (GC) will be awarded for a passing grade below a C. Students will earn the credit hours associated with the course and fulfill undergraduate requirements that can be met with a passing grade below a C. 
A grade of No Credit (NC) will be awarded for a grade of F. This grade will neither earn credit nor meet any requirements.
All COVID grading options will not impact students' GPA this semester.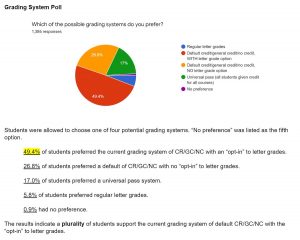 In an email sent to students on Thursday, Associate Vice Provost and University Registrar Laura F. Hawthorne acknowledged "this decision might be difficult". The email included a resource to advise students on which grading option to select.
For more information on the grading options, students are encouraged to refer to this link or reach the University Registrar at ureg@virginia.edu.