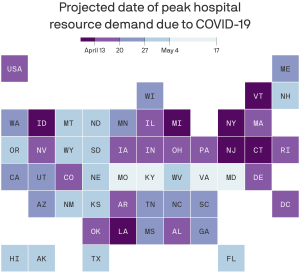 The spread of coronavirus will likely peak in Virginia on May 28 — more than one month after the nation's overall peak on April 15 — according to the University of Washington's Institute for Health Metrics and Evaluation (IHME). As of March 31, the Virginia Department of Health is reporting 1,250 confirmed cases of COVID-19 and 27 deaths in the state, with numbers rising daily. If time is properly utilized, the later peak will allow Virginia officials to better prepare for strain on medical resources.
On Tuesday, the White House unveiled models predicting that coronavirus will kill between 100,000 and 240,000 Americans, adding perspective to Virginia Democratic Governor Ralph Northam's stay-at-home directive from the day prior. When he addressed Virginians, Northam announced that his executive order will remain in place until at least June 10.
"We are in a public health crisis, and we need everyone to take this seriously and act responsibly," said Governor Northam. "Our message to Virginians is clear: stay home. We know this virus spreads primarily through human-to-human contact, and that's why it's so important that people follow this order and practice social distancing. I'm deeply grateful to everyone for their cooperation during this unprecedented and difficult time."
During his daily meeting with reporters, President Trump told Americans to anticipate a painful two weeks ahead. When pressed specifically about Governor Northam's stay-at-home order on Monday, the president supported the Virginia plan of action.
"Well, we're letting the governors do in their states pretty much what they want with our supervision, and they consult with us in all cases," Trump said. "Some go further than others, as you know. I mean, I could give you plenty of examples, but I'm not going to do that because we never want to be controversial. But some of the governors have taken it a step further…But, look, staying at home, with respect to what we're talking about, doesn't bother me at all. People should be staying at home. That's what we want."
On Tuesday, the president's tone shifted as he discussed "very sobering" new data in place of his previous assertions that Americans would be able to "pack the pews" by Easter Sunday on April 12.
"This could be hell of a bad two weeks,'" Trump said. "This is going to be one of the roughest two or three weeks we've ever had in our country. We're going to lose thousands of people."
Trump also lauded the nation's healthcare workers, describing the scene at Elmhurst Hospital in Queens, New York, near where the president was raised.
"I watched the doctors and the nurses walking into that hospital this morning," Trump said. "It's like military people going into battle, going into war. The bravery is incredible. And I just have to take my hat — I would take my hat — if I were wearing a hat, I'd rip that hat off so fast and I would say 'you people are just incredible.' They really are. They're very brave."
According to Johns Hopkins University, 188,547 cases of COVID-19 have been confirmed in the United States, as of Tuesday evening. The number will likely continue to rise toward its peak as more positive testing results are released. While some hospitals, including at the University of Virginia, work diligently to create and distribute their own coronavirus tests, governors across the United States continue to discuss shortages in testing kits.
Larry Hogan, Republican Governor of Maryland and Chair of the National Governors Association, told NPR on Tuesday that Trump's claims to have solved coronavirus testing problems are "just not true."
"I know that they've taken some steps to create new tests, but they're not actually produced and distributed out to the states," Hogan said. "So it's a aspirational thing, and they have taken — they've got some new things in the works, but they're not actually out on the streets, and that's — no state has enough testing…And we're listening to the smart team, the coronavirus team, the vice president and Ambassador Birx and Anthony Fauci and people like that who are giving factual information on a daily basis."
---
For the University of Virginia's coronavirus response webpage, click here.