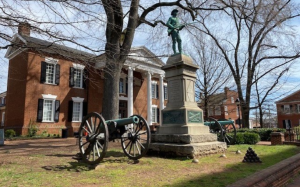 The Albemarle County Board of Supervisors announced plans to remove a Confederate monument that has stood in front of the county courthouse for over a century. Titled "At Ready," the life-sized statue depicts an unnamed Confederate soldier in uniform and will be taken to a storage facility on Sept. 12. Cannons on both sides of the bronze man and cannonballs piled in front of him will also be removed. In-person gatherings at Court Square to see the monument come down on Saturday are prohibited due to COVID-19 restrictions. The event will be live-streamed on Facebook.
According to the Washington Post, Virginia state law requires that the Board offer "At Ready" to historical groups, including museums and military battlefields, who may want to display it themselves. Albemarle County officials will review and discuss offers Tuesday at 5pm in a virtual meeting that is open to the public.
Board Chairman Ned Gallaway discussed the removal of "At Ready" and elaborated on plans for Saturday's live-stream.
"There has been a robust, community-driven process to bring us to this moment. It would be ideal to mark the removal of 'At Ready,' the cannons, and the cannonballs from the front our historic courthouse together as a community — but that simply is not possible to do safely," said Gallaway. "The live-stream event will provide the best possible view of the removal and will also feature interviews with community members, elected officials, scholars, and professionals. We urge our community to experience this moment together online."
"At Ready" has stood in front of the Albemarle County Courthouse since 1909. State politician Sally Hudson, whose district in the Virginia House of Delegates encompasses all of Charlottesville and parts of Albemarle County east of the City, expressed her approval of the decision to remove it.
"It was really heartening to see the decision at the county board and listen to all of that public testimony and what was once a controversial decision is now a real matter of community consensus as it should be," Hudson told local reporters. "We should be deciding what we celebrate and that ain't it anymore."
Meanwhile, other controversial Confederate monuments — including the statue of General Robert E. Lee that inspired the deadly 2017 "Unite the Right" rally — remain standing in Charlottesville. This year's calls for racial justice across the country have reignited some heated debates about whether monuments of Confederate figures should still occupy places of prominence.
For his part, Virginia Governor Ralph Northam announced his intent to remove a 60-foot statue of Lee from Monument Avenue in Richmond, the former capital city of the Confederacy. The attempt was temporarily blocked by an injunction in August.
"This statue [of Lee] is a symbol of oppression and divisiveness," Northam told NPR in June. "We pride ourselves on being inclusive, and we want to welcome people to the Commonwealth of Virginia and especially to our capital city. And when one, you know, drives into the city and sees a six-story-tall statue of an individual that fought for slavery, it's just not acceptable anymore."