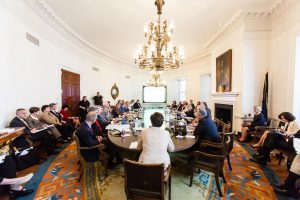 The University of Virginia Board of Visitors (BOV) passed three resolutions on Friday, September 15th in response to the terror attacks that occurred on August 11th and 12th. The resolutions have direct implications on the functions of UVa's Academical Village, the current open flame policy, and the Confederate plaques on the Rotunda.
The first and perhaps most notable resolution officially recognizes the Academical Village as a University facility. This prohibits the possession or use of any weapon, firework, or other dangerous substances by the public on prominent UVa spaces, including the Rotunda, Lawn and Range rooms, and gardens.
The second resolution enforces the University's open flame policy, which prohibits open flames on any University property without approval from the Office of Environmental Health and Safety or the UVA Medical Center Fire Protection Inspector's Office.
The last resolution institutes the removal of all Confederate plaques from the Rotunda. This was one of the twelve demands presented to the BOV by student activists. The plaques will be moved elsewhere to be preserved as artifacts.
Risa Goluboff, Dean of UVa School of Law, summarizes the boards intentions by stating, "Over the past month, like many of you, I have experienced many different emotions – anger, sadness, grief, vulnerability. But as I think about the work of this working group, and about making our world, our nation, our commonwealth and our University a more just, equal and inclusive place, there is one particular emotion I feel more than any other, and that is resolve…I am resolved that we can make something meaningful out of something tragic that came to us. President Sullivan's convening of this working group is committing the University to that project."
The BOV seeks to provide strength and unity at a time of uncertainty not only within the UVa community, but also within the larger Charlottesville community. UVa serves as the focal point of the city of Charlottesville, and so it becomes the responsibility of the University to respond when acts of terror transpire within the city.