This past Monday, February 26th, an art exhibit was held at OpenGrounds in which there was no art on the walls. Instead, the walls were covered with little slips of paper covered in dime-sized black dots and intricate lines. Beneath these were instructions for downloading an app called "ROAR". The exhibition was called ARtech, and the app scanned the slips of paper and produced a piece of art that you could view on your phone. This is one of the newest ways in which technology and art have intersected.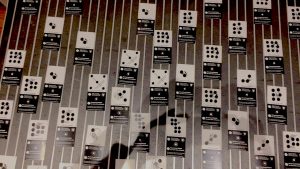 Augmented reality has been incorporated into art exhibits more and more in recent years as it has developed. Last semester, in fact, sculptor and multimedia artist, Michael Rees, held a lecture preceding his exhibit reflecting his use of augmented reality in installation pieces. The physical sculptures on exhibit (some of which made use of 3D printing technology) were accompanied by iPads on stands that patrons could look at to see images laid over the sculptures. In his exhibit, Clown Town, many of these images involved 3-dimensional clowns that interacted with the physical sculptures.
At ARtech, the augmented reality concept had not been implemented at quite that level. There was a sense that the exhibition was a first step, a pioneering move, in the direction of augmented reality in art. The biggest problem at the exhibit was simply running the app. ROAR itself is a powerful app that is liable to crash on phones that do not have high enough processing power. The iPhone 5, for example (which I still unfortunately have), was not particularly compatible with the app. Only once was I able to run the app and load the picture without the app crashing.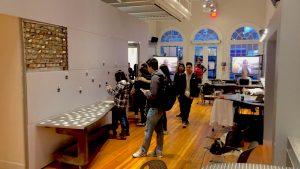 I was not the only one who had this problem: other users of older iPhones experienced the same difficulties. Looking around the room, however, many of the patrons who had newer iPhones or Android devices seemed to have no problem at all. They walked through the exhibit, scanning images up and down the wall. One can imagine that in a year's time, as more people have phones with better processing power, the exhibit would see fewer problems.
Unlike the Clown Town exhibit I mentioned earlier, the art that popped up on our screens were not 3-dimensional and they did not interact with anything in the physical space. Rather, you could scan the slip of paper and shortly thereafter a small image of a simple painting showed up. The best adjective for this kind of thing is "neat".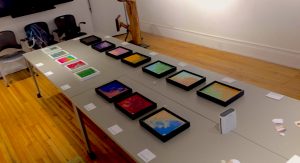 For folks like me, whose phone could not quite handle the app, all of the paintings were in another room. I walked in to see a table on which sat around fifteen paintings of roughly 11"x18" or 16"x20", most of which were in simple black frames. Some of the paintings depicted impressionist landscapes, trees against a light sky, for instance, or birds silhouetted by sunlight. Some of the paintings were more abstract, depicting blobs of color weaving in and around each other. All were colorful and bright.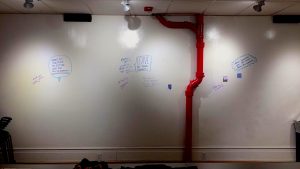 In the same room as the paintings, there were white walls on both sides. On these walls, the hosts of the exhibit had drawn up word bubbles asking for feedback. They asked what our thoughts were, and what we thought the best uses of augmented/virtual realities would be in the future. There were not many answers written yet, but the exhibition will continue until March 26th.
Stop by OpenGrounds, take a look, and give some feedback.