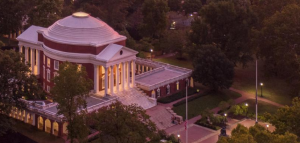 On Monday, the University of Virginia released initial results from mandatory coronavirus testing for students — 36 positive cases out of 13,000 reported tests. With online classes underway and all official, in-person activity set to start on September 8, students submitted coronavirus test kits in order to be cleared for the fall semester. For those already inhabiting their off-Grounds residences in Charlottesville, receiving a negative test result and sending the information to Student Health was mandatory prior to their return, per University policy.
With this week's results indicating a positivity rate of less than 1 percent, University spokesperson Brian Coy expressed optimism to a Charlottesville local news outlet.
"It's encouraging that it's a small number of cases," Coy said. "We're also asking [all students] to quarantine before they come, so that they're reducing the opportunities to contract the virus before they come to Grounds."
Students who received positive results, on the other hand, must meet additional criteria before returning — including an isolation period spanning at least 10 days since the date of the positive test or the development of symptoms, whichever is longer. Once the student fulfills the requirements, they may return to Grounds for any in-person classes without submitting another test result to the University. Affected students may also continue to attend all of their classes virtually if their isolation period stretches past September 8, or if they simply prefer to do so for the remainder of the semester, like some of their other classmates who are already planning on online instruction for the entire fall.
University officials anticipate more test results in the near future.
"We're hitting up towards nearly three quarters of the tests that we're expecting to receive back," Coy said. "There are still some folks who are signing up."
The University hired an outside vendor, "Let's Get Checked," for their at-home coronavirus test kits. After ordering materials from the website free of charge, students typically received their results from the company within 3-5 days of mailing back the kit. Students were strongly encouraged to use "Let's Get Checked" because if they were tested elsewhere, they would have needed to send the results to Student Health themselves, while "Let's Get Checked" automatically delivered them instead.
The University has announced no plans for another round of mandatory testing, but will launch an online portal where people can view the amount of COVID-19 cases within the community on a dashboard. For those who submitted negative results before the University delayed the official return for two weeks, University policy recommends that they avoid crowds, practice physical distancing, wear a face mask when appropriate, and wash hands frequently to avoid infection in the interim.
According to the "Return to Grounds" webpage, all students, faculty, and staff planning to be on Grounds will complete a daily check on symptoms related to COVID-19 through the "HOOS Health Check" app or by email. The "HOOS Health Check" app is designed to make individuals aware of their symptoms — including cough, loss of taste or smell, fever, chills, congestion, muscle pain, and sore throat — and to provide resources and next steps for testing, if needed. Community members with a Netbadge login can download "HOOS Health Check" onto their phones or visit the website.
---
For more information on the fall semester and the University's reopening plans, click here.