Home
Authors
Posts by Jason Banks
Name, Image, and Likeness, also known as NIL has given college student-athletes the chance to earn money for themselves. We explored how UVA student...
UVA is officially starting the construction of their new football operations center, part of Phase Two of the Athletics Master Plan.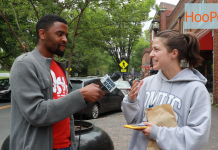 https://www.youtube.com/watch?v=4mC2RgJqCqM Missed this year's Met Gala? Check out the video to see what students on Grounds thought about the Gilded Age outfits.