Home
Authors
Posts by Grace Kim
WUVA reporter Olivia Pappas speaks with Miles Coleman from UVA Center of Politics, Abe Nelson from Charlottesville Pro-Life, Sean Mehl from Whole Woman's Health,...
The UVA undergraduate Class of 2022 looks back at their favorite memories here on grounds.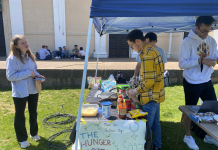 On April 20, 2022, the CVille Market made a comeback to UVA grounds at the Amphitheater. Although it is typically held every year in...