Black Panther has dominated the box office since its release on February 16th. The movie has already broken records and currently has a 97% "fresh" rating on Rotten Tomatoes. So far, Black Panther has grossed $111.8 million and been praised for its impressive cinematography.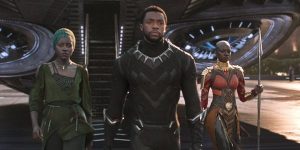 The new film has also garnered a seemingly unprecedented amount of fan appreciation on social media–especially from African Americans. Some African American UVa students like Elma Adusei even attended Black Panther dressed in traditional African clothing such as colorful Dashikis and Kaftans.
Adusei, a third year student, was one of many Hoos who attended the film just after its release. She spoke to WUVA News about what made this movie unique for her.
"It was an exciting experience that I got to enjoy with a big group of friends," she said. "I went to see the movie…dressed up in a cross between Black Panther attire and wearing a colorful head scarf as a way of 'African-izing' my outfit."
Adusei added that she and her friends also enjoyed a meal at a traditional South African restaurant in order to celebrate her African heritage.
"I was born and raised in Ghana, West Africa and Black Panther [is] the first major blockbuster film, that I know of, that is centralized around African characters and themes," Adusei continued. "I was thrilled and expected representation of various African cultures and clothing on the big screen–and the film delivered that!"
Adusei also brought up the issue of how Africans and African Americans have been negatively represented by media in the past. Hollywood has generally been criticized for "white-washing" characters, leaving limited roles for minority actors.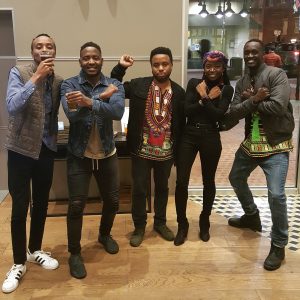 "I also believe that [Black Panther is] the first Marvel film featuring a predominantly black cast and the film was set to take place in a secret nation in Africa," the third year stated. "It was great to see different groups of Africans depicted authentically and with dignity in the film…not the tired, repeated Hollywood narrative of poor and strange Africa."
When Adusei was asked about the success of the film and the excitement surrounding it, she concluded that the majority black cast stood out when compared to other films where minority representation is not prioritized.
"Because the characters/actors are black, I also feel that it has drawn the support of African-Americans…Africans…and other minority groups. These groups want to show up and express that it's about time that Hollywood started producing blockbuster films that represent black people and [minorities in general] in main and empowering roles that don't follow the negative stereotypes," she explained.
Adusei acknowledged that Black Panther promoted a sense of African/African American cultural significance. The characters' names, the languages used, the costumes, and traditions presented throughout the film all touched the UVa student and made her feel empowered as a native of Africa herself.