Exciting progress is taking place in the UVA Medical Research Center. We took an inside look at Dr. Daniel Cox's newest diabetes research. https://www.youtube.com/watch?v=EIkt8vB-3Y0&t=1s
WUVA talked to Mary Kate Cary, Senior Fellow at the University of Virginia Miller Center, about the surprises and insights of this past Gubernatorial...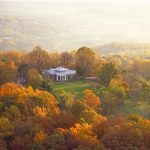 Walking down the streets of Charlottesville or on grounds, endless tributes to Heather Heyer are on display. The city is scarred by recent violence...
Weather
Albemarle County
clear sky