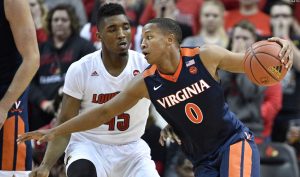 Devon Hall, former guard for the Virginia men's basketball team, was drafted to the NBA by the Oklahoma City Thunder last night. Hall, 22, started in 34 games for Virginia last season, and served as a tri-captain alongside Isaiah Wilkins and Jack Salt. Standing at 6-foot-5 with a 211-pound frame, Hall was chosen by the Thunder in the second round of the draft. The former Cavalier was the No. 53 pick overall.
Hall's senior season at the University was the best of his career. The fifth-year averaged 11.7 points per game, and was a second-team all-ACC selection in the 2017-2018 season. A Virginia Beach native, Hall joins Malcolm Brogdon, Justin Anderson, and Joe Harris as University players drafted to the NBA in recent years.
Once his time at the University was over, Hall cultivated his NBA prospects by playing all over the country, even earning all-tournament honors at the Portsmouth Invitational Tournament (PIT). He auditioned for almost two-thirds of the league's teams in the hopes of being chosen by one.
Hall told UVA Today earlier this month that his prospects of joining the NBA made him grateful "every single day."
"These are the opportunities of a lifetime, and I'm super blessed to be able to do all these," Hall said. "I'm flying around the country, working out for different teams. It's definitely a grind, but I'm enjoying it."
ESPN's Mike Schmitz predicted that Hall will have a "long NBA career" in front of him after his performance at Portsmouth in April. Schmitz praised Hall's professionalism and focus, citing Virginia coach Tony Bennett.
"[Hall] plays with tremendous intensity, confidence and maturity while standing out as a vocal leader on both ends of the floor," Schmitz wrote. "It's Hall's impact on the locker room and likelihood of maximizing his long-term potential that make him most attractive to NBA teams, but he's also a refined two-way player who fits this pass-dribble-shoot era of basketball."
The NBA's 2018-2019 regular season will begin in October. The Oklahoma City Thunder will play their first pre-season game on July 6 against the Charlotte Hornets.