Yesterday, Ben Smiley III, one of the top high school players in the country, verbally committed to UVA—only to decommit within half an hour.
Smiley tweeted the following message yesterday afternoon, announcing UVA as his college pick to thousands of followers and football fans.The message has since been deleted.
"First I give God all the praises and glory, Coach Ferbee, all my coaches… Special thanks to my Mama for all she do for me and having faith in me… Pushing me and letting me know 'I can do anything, with God on my side!' With that being said I'd like to take my talents to the University of Virginia ⚔⚔⚔ #HoosRising."
Within a few minutes of the announcement, UVA defensive line coach Vic So'oto responded excitedly: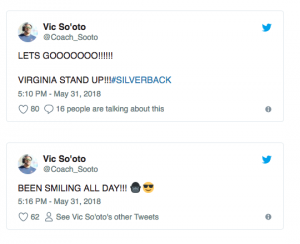 Fans and college recruiters were shocked when, 16 minutes after So'oto's tweet, Smiley announced a change of plans.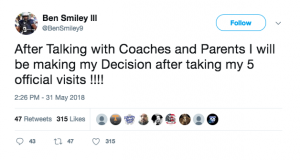 Smiley would be a monumental addition to the UVA football team. According to 247Sports Composite he is ranked number twenty-four defensive tackle in the nation.
Earlier in May, Smiley released his top 10 list of schools he is considering. The list included Alabama, Texas A&M, Oklahoma, Penn State, and Miami, all of which are schools typically loaded with 4 and 5 star talent.
However, all hope is not lost yet for the Hoos.
Smiley goes to Indian River Highschool in Chesapeake Virginia, so UVA supporters hope he chooses to stay in his home state.
Now that he is back on the market, Smiley will most likely take his time before announcing his college selection. Yesterday's tweet was just a verbal commitment since players cannot sign officially until December. Most top-tier recruits wait for later in the football season before announcing, so Smiley has plenty of time to consider his options.