The ACC Tournament starts tomorrow afternoon in Brooklyn, New York, and the Virginia Cavaliers are the No. 1 seed after winning the conference by four full games. Here are a few things to keep an eye on as play begins:
Kyle Guy's Knee: This is a big one for the Cavaliers. For those who missed it, Kyle Guy hurt his knee during the first half of the Notre Dame game on Saturday while chasing a defender around a screen. He left the floor, but eventually returned to play eight minutes in the second half. However, Norm Wood from the Daily Press talked to Guy, who said he sprained his MCL:
#UVa guard Kyle Guy said he has a sprained MCL in his knee. Said he practiced fine today, but "it hurts like hell." He doesn't know if he'll wear the brace Thursday in #ACCTournament quarterfinals.

— Norm Wood (@normwood) March 5, 2018
Losing Guy for any portion of the ACC or NCAA tournaments would be a major blow to the Cavaliers. Assuming this is a Grade One sprain, the recovery time could vary from a few days to a week and a half; however, it's hard to know at this time whether Guy will be able to play UVa's first ACC Tournament game on Thursday. Certainly something to monitor throughout the week.
Potential Opponents: The Cavaliers received a double-bye as a top-4 seed, meaning they won't have to play until the quarterfinals on Thursday. However, the bracket worked out such that Virginia, as the No. 1 seed, managed to avoid a handful of especially difficult opponents. Duke, North Carolina, and Miami are all in the bottom-half, as is Virginia Tech, the only team to beat the Cavaliers in conference play; as such, Virginia would only face them in the championship game.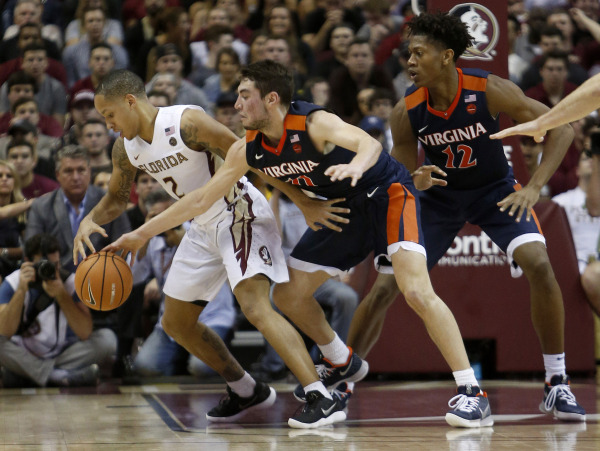 15-team brackets are a bit tricky to generate, but there is an obvious upside for the No. 1 team: they have a much better idea of who they'll be facing well in advance. In UVa's case, they face the winner of Wednesday's game between No. 8 Florida State vs. No. 9 Louisville. Although the Cavaliers are 3-0 on the year against both teams, the margin of victory has been relatively slim, including Thursday's legendary comeback win against the Cardinal. Further, both teams are looking to solidify their NCAA Tournament resumes: ESPN's Joe Lunardi has Florida State as a 9 seed, and Louisville is the first team out. Virginia can expect to receive an inspired effort from either team.
If Virginia can win their opening game they have to feel good about the semi-finals: their most likely opponent (by seeding) is Clemson, a team they held to 36 points, and the only other options are North Carolina State, Boston College, and Georgia Tech. Virginia handled State and Tech easily during conference play; the Eagles took UVa down to the wire back in December, but it's tough to imagine them providing a serious challenge to the unanimous No. 1 team in college basketball (or beating NC State/Clemson for that matter).
De'Andre Hunter's Pro Prospects: It's no secret the NBA craves wing players with long wingspans that can guard multiple positions and shoot 3's, and Virginia SF De'Andre Hunter (who was recently named the ACC 6th Man of the Year) has begun to receive some draft buzz as the country takes note of his 7'2″ wingspan and watches him score at will against ACC opponents. Jackson Hoy wrote a 3,100 word piece for The Stepien two weeks ago arguing that Hunter should be a lottery pick in the 2018 Draft, and Sam Vecenie from The Athletic discussed Hunter with Cole Zwicker on his podcast last week (starts around the 1:01 mark). Bleacher Report's 2018 NBA Draft Big Board currently has Hunter as the #22 prospect available, and notes that his stock is on the rise.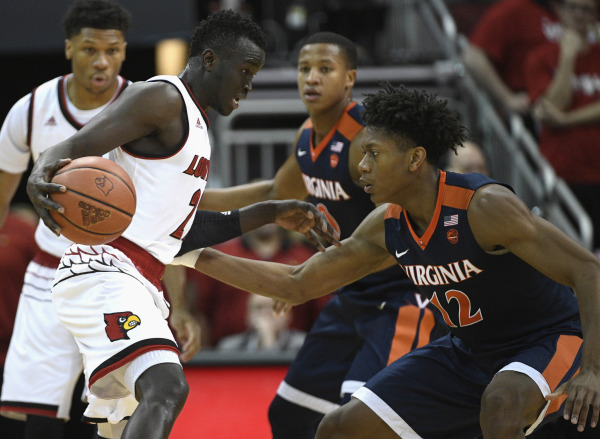 There's no question that Hunter is a pro player – a player with his physical gifts, scoring ability, and defensive flexibility will absolutely get drafted. The more immediate question (and concern for UVa fans) is when he'll decide to leave for the NBA. Most scouts are saying he needs to improve his shooting, but there's little argument he would be drafted in the bottom half of the first round if he left this year. But is that enticing enough? Big-time performances in the conference or NCAA tournaments could see his stock move up into lower-lottery range.