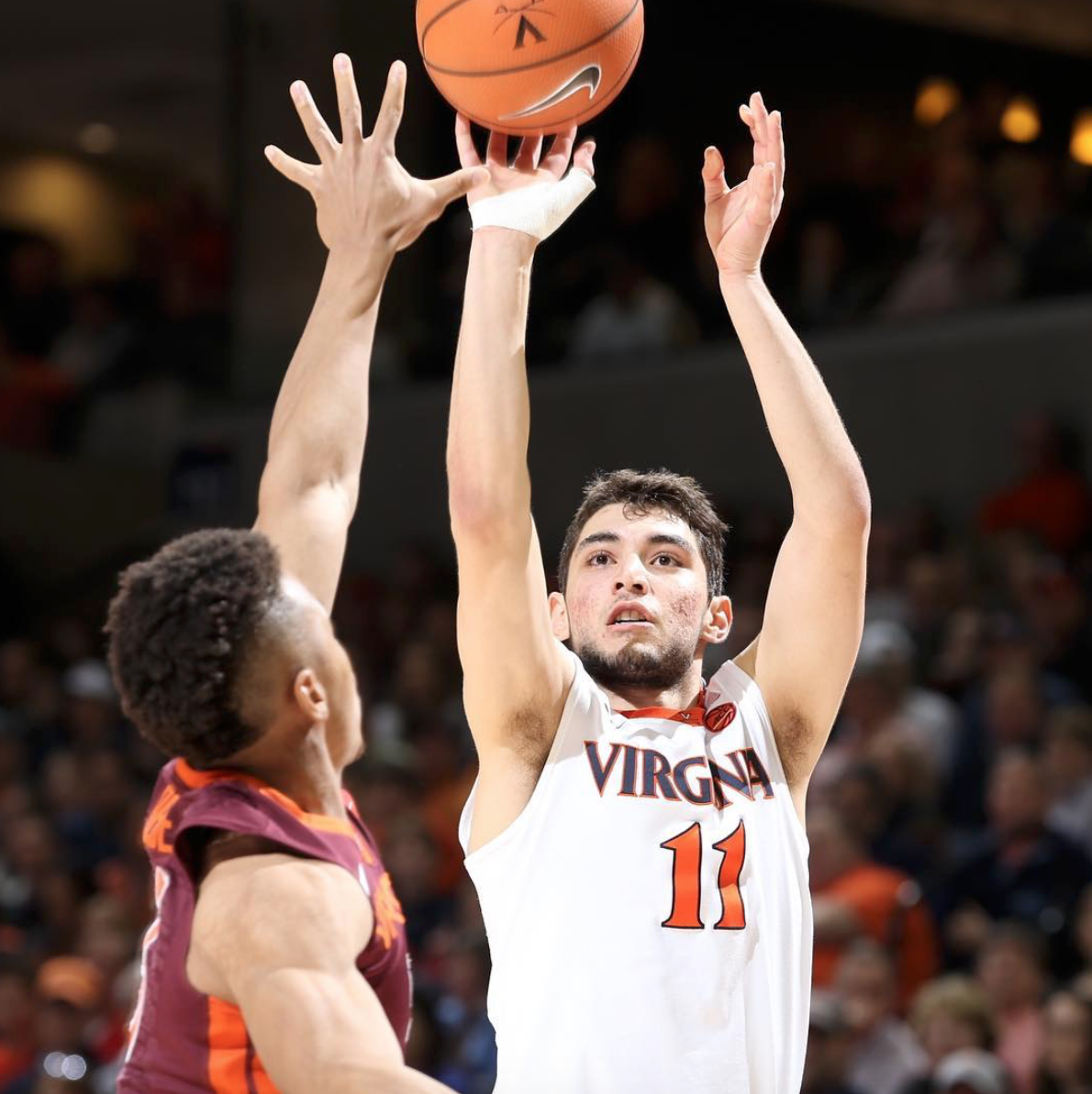 In a game surrounded by the fanfare of ESPN's College Gameday, and a potential number one ranking in Monday's AP Poll, Virginia seemed to lose its focus. The Cavaliers (23-2, 12-1 ACC) entered the game winners of 15 straight, including a lopsided 78-52 win against this same Virginia Tech (18-7, 7-5 ACC) squad. A huge in-state rivalry game, the crowd of 14,623 was rowdy from first-tip and hungry for a win.
The contest got off to a quick start and looked as if Virginia might run away with it early. Fifth-year guard, Devon Hall, hit the first shot of the game from deep three-point range, and quickly hit another one the next time up the floor. Minutes later, second-year guards, Ty Jerome and Kyle Guy, hooked up on a nifty play where Guy flipped the ball through the legs of a defender, feeding Ty for an easy jumper. A Jack Salt dunk, and a Guy three-pointer capped a 13-5 run to begin the game and the crowd erupted.
Virginia Tech refused to be dealt away so quickly however, and responded by hitting eight shots from downtown, forcing Virginia into its largest deficit of the season, going up by as much as 12 points. During the stretch, the Hoos struggled to get anything to fall, shooting a tough 36% from the floor and 31.3% from deep.
The last couple minutes of the half, the Cavaliers came to life. Redshirt first-year De'Andre Hunter drilled a contested three-pointer and then drove the paint in transition to get a basket and the foul. Kyle Guy would also hit a three in transition to pull within four, but the Hokies would hit a buzzer beater three to push their lead back to seven at the break.
The start of the second period saw a very different UVa team. Out of the break, after giving up an uncontested layup to Tech's Justin Robinson, the Hoos would make back to back to back three pointers, two by Hall and one by Jerome, to even the score at 35 a piece.
The rest of the half was not pretty basketball from either side. Neither team could buy a basket and were forced into tough, contested jumpers. Over a six-minute stretch, the two teams shot a combined 2-17, with neither team able to get a shot to drop and establish a lead.
In the closing minute of the half, Tech opened a narrow four-point lead. With 50 seconds on the clock, Ty Jerome drove straight down the lane and hit a layup to pull within a basket. They would then immediately foul and send Tech's Robinson to the line. He would miss the front end of the one-and-one and Jerome would the snatch the rebound. Ty then drove the length of the floor and buried a mid-range jumper to tie the game and send it into overtime.
Overtime was a close affair, yet saw the Hoos take a five-point lead with 38 seconds remaining off of a three-point bucket from Devon Hall and two clutch free throws from senior forward, Isaiah Wilkins. However, Hall would then miss his free throws off intentional fouls and allowed Tech to hit a three of their own, and a tip in layup with 4 seconds to go to seal their one-point victory.
Takeaways:
Beat at Their Own Game:
If this win from Virginia Tech looked eerily similar to a lot of wins you've seen from Virginia this season, you'd be right. They played a style of defense nearly identical to the Hoos' patented "packline". They didn't allow any played into the lane and forced over the top jumpers, many of them contested. Much of the game looked more like a three-point contest than a game of five-on-five with the two teams combining for 67 three point attempts. In the end, both teams hit 11 of their attempts, but VT took nine less, getting in the lane and scoring inside better. Tech was fortunate however, as two of Virginia's shooters had uncharacteristically off nights. Ty Jerome shot 4-14, including 1-10 from three, while Kyle Guy went 5-21, and 3-14 from deep. Their typically sure-fire shots just simply were not falling tonight, and Virginia Tech capitalized.
Implications:
This game had a lot of hype built around it. With other top teams, Villanova and Purdue losing, the door was open for Virginia to ascend to their first number one overall ranking since the 1982 season. The popular College Gameday morning show visited the arena prior to the game and analyst Jay Williams announced to the screaming crowd that he not only predicted Virginia to win the game, he picked them to win all of March Madness. This, plus the fact that Virginia Tech is a hated rival, made this an emotional game, and a painful loss for Virginia fans. However painful though, the actual ramifications of this loss aren't all that bad. The Hoos will likely not be the number one team on Monday, but they will still be sitting comfortably at the top of the ACC standings and in a great position to achieve a one-seed in the NCAA Tournament. It also gives the young team an excellent learning experience, one that will serve them well come tournament time. Coach Bennett postgame said, "Everybody is capable of beating everybody in this league" and the team has to "Grow from it, and learn from it." The last game Virginia lost was a close one to West Virginia, and they followed it with a fifteen game win streak. This was a similar tough loss, but expect them to grow and be better because of it.
What's Next?
The Cavaliers look to bounce back Tuesday night at Miami (18-6, 7-5 ACC)