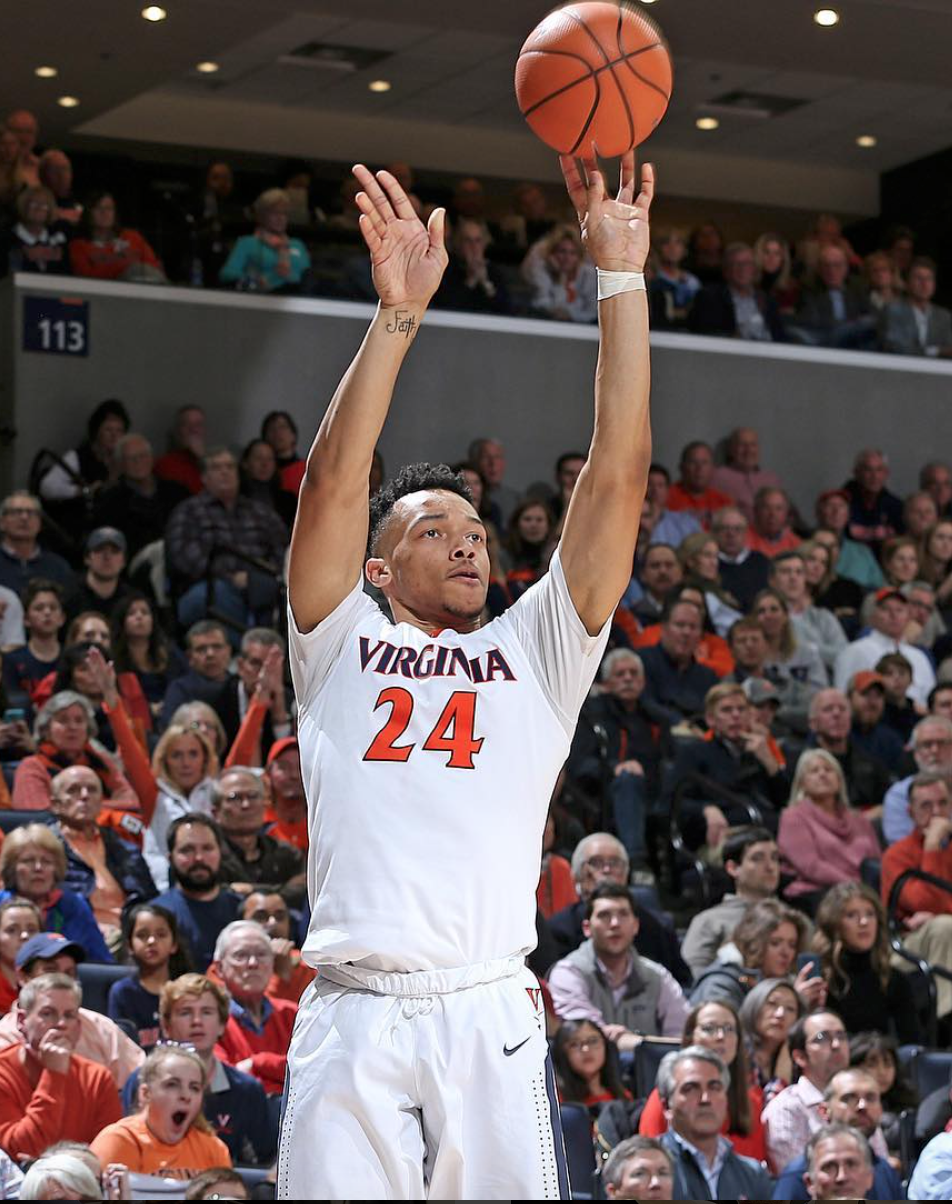 The #2 Virginia Cavaliers (21-1, 10-0 ACC) came into their matchup with Louisville (16-6, 6-3 ACC) riding high after a huge win over #4 Duke in Durham last week. They were undermanned however, as it was announced only minutes before tip-off that graduate transfer guard Nigel Johnson had been suspended for three games. This, in addition to speculation that many players were ill, led to a certain level of intrigue into a game that Virginia was heavily favored to win.
The crowd at John Paul Jones Arena was in a frenzy from first tip, still buzzing over Saturday's big win. They were perhaps a tad overzealous, throwing streamers onto the floor following the Hoos' first basket and were warned that a technical foul would be called if it happened again.
The first half was largely dominated by second year guard, Kyle Guy who scored 14 points in the period on 11 shots, including two three-pointers. It also saw first year guard, Marco Anthony get his first major minutes of the season, and he delivered. He hit both of his shots in the period, including a corner three. He would finish the game with 10 points.
The second half saw more of the same from Guy, who finished with 22 points. He got help in the period from fifth year captain, Devon Hall, who started the frame with two quick three pointers. The Hoos would pull out to a 14-point lead with about 11 minutes to play, but a flurry of three pointers from the Cardinals pulled them back within five with just over three minutes to play.
This is when second-year guard, Ty Jerome, took over. With 2:30 left to play, he put a crossover move on a Louisville defender and pulled up from deep, NBA 3-point range, hitting nothing but the back of the net. The very next time up the floor, He put the exact same move on again, and hit the shot for the second time in a row. This put Virginia up 11 with just over 90 seconds remaining. A nice pump fake and midrange jumper from redshirt first year, De'Andre Hunter, and a breakaway dunk from senior, Isaiah Wilkins would seal a Virginia victory.
Ty Jerome would finish the game with 16 points on 6-9 shooting, to go along with a career-high nine assists. Devon Hall had 12 points, 2 assists and 2 steals, shooting a tidy 5-8 from the floor.
Takeaways:
Marco Anthony is a Weapon
With Nigel Johnson sidelined with a suspension for three games and several Virginia players under the weather, Tony Bennett gave first year guard Marco Anthony the most minutes he's seen all season. Marco embraced the opportunity and really showed up. He ended the night with 10 points on 4-6 shooting, including two from long range. Devon Hall "wasn't surprised" at his performance, and Bennett emphasized the next-man-up mentality that Virginia constantly preaches. A lot of teams say their next man is ready, but Virginia has shown multiple times now this season that they really mean it. Marco struggled a little on the defensive end of the floor, especially in transition, but he settled down and was far from a liability. His effort and ability should provide some comfort for those anxious about Nigel's absence.
Ty Jerome Thrives in the Clutch
In the marquee match-up with Duke last Saturday, Ty hit a dagger of a three off a fake-pass to essentially seal the win. These kind of cold-blooded shots have become something of a norm for the guard, as in this contest, he hit not one, but two of these shots, back-to-back. With time winding down on the shot clock, Ty is absolutely the one you want with the ball. After the game he confessed that with many of those shots, "I don't even know where I am on the floor." Luckily for him, it doesn't seem to matter, even with a hand in his face, both shots cut the net clean. Although not considered the face of the offense, he has certainly become the go-to shooter in the clutch.
Defense..?
The Hoos allowed a team to shoot over 50% for the first time this entire season. Before anybody freaks out, Virginia had several factors working against them. First, with Nigel out, Marco Anthony was thrown in the deep end against one of the best offenses in the ACC. Second, prior to the game, Devon Hall, Mamadi Diakite, and De'Andre Hunter all were expressing flu-like symptoms and all played through it. Following the game, when asked how he felt, Devon Hall simply said, "Tired." Despite their fatigue, all three players turned in solid offensive games, and did enough defensively to still come away with a win.