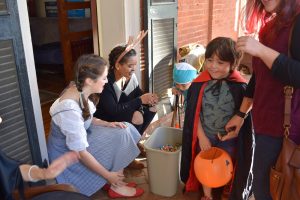 Thousands of Charlottesville residents and UVa students gathered on the Lawn from 4-6 pm this Halloween for the annual Trick-or-Treating on the Lawn (TOTOTL) event. Check out the photos WUVA News captured!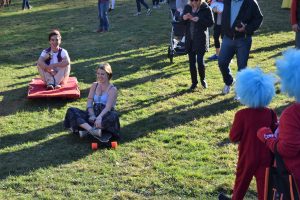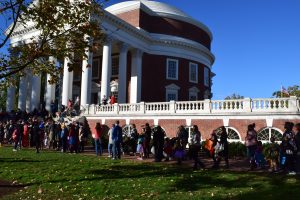 Earlier this evening, kids in all types of costumes as well as students trickled down the corner as they headed to grounds for the big event.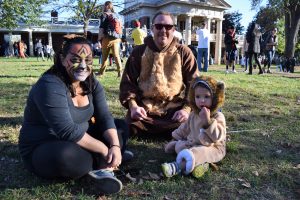 TOTOTL is known for bringing the Charlottesville and university communities together. The yearly celebration creates a space where children, students, and adults alike can dress up and enjoy the festivities while interacting with one another in a safe environment that is also free from school-related stress.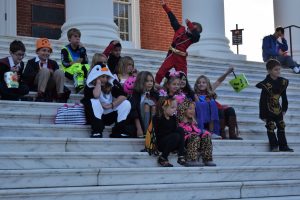 Trick-or-Treating on the Lawn is one of the university's most celebrated events and dates back to over 30 years ago. The 54 Students who reside on the lawn open their rooms to pass out candy to trick-or-treaters. The event is co-sponsored by student organizations and Housing and Residence Life.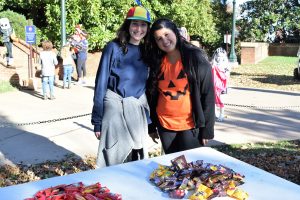 One of the organizations passing out candy on the South Lawn was UVa's Relay For Life, which fundraises for the American Cancer Society.
"You have to apply in order to get a table or lawn room to pass out candy. They suggest you have around $125 worth of candy per hour," said fourth year Anna Cooper.
"I didn't get to come last year because I had class. TOTOTL is nice because it breaks the bubble between the UVa community and Charlottesville. I work at Venable Elementary school and parents were pulling kids out of school early to get ready," said third year Caroline Biondo.
When 4 o'clock rolled around, the lawn was already full of spectators who came to appreciate the celebration and the creative costumes children were dressed in.
"My favorite kid's costume was the mini Starbucks latte whose parents were Baristas because you can never start them too early," said third year Jayme Pupatelli.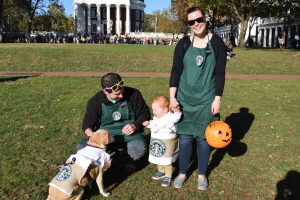 Kaivon Kouhestani is a fourth year resident of room 34 on the lawn who hosted the Persian Culture Society and the Middle Eastern Leadership Council. Kouhestani was told that at least one thousand kids come by the lawn to enjoy the spectacle.
Before TOTOTL commenced, Kouhestani said: "I have been looking forward to this since last week. Today will be a day of relaxation where kids can dress up as characters that make them feel good. It's important they explore themselves and what they like. Simply, it's to have fun and forget the realities."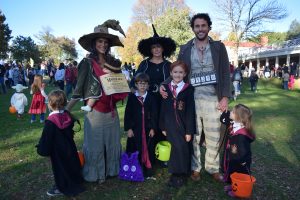 There are also volunteers who help make sure the event runs smoothly. They obtain these positions by filling out a form sent out by the Senior Resident on the Lawn.
"Volunteers help with crowd control and are posted around the Lawn to make sure it goes counter-clockwise. We are also here in case a child gets lost," said a third year volunteer.
There is no question that this evening of fun requires a lot of candy and in the event that there is some left over, it gets donated.
"The president of the American Red Cross Club at UVa reached out to me and asked if he could pick up leftover candy so they can send it to troops overseas in places like Kuwait and Iraq," said fourth-year Senior Resident on the  Lawn Resident Malcolm Stewart.
Check out more photos from this year's TOTOTL! Happy Halloween!