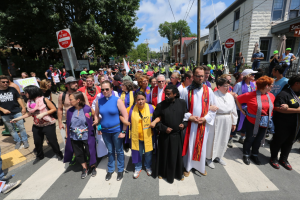 Several United States government officials have shared their thoughts on the tragedy that occurred in Charlottesville last weekend, but they aren't the only ones.
American leaders, like Terry McAuliffe and Paul Ryan, were quick to condemn the actions of the white nationalist groups that dominated the news on August 12th, but so were several other world leaders.
Germany – Chancellor Angela Merkel
Germany's leader, Angela Merkel, has called the event "racist," "horrifying" and "evil". She also said that a rallies like these must be met with action no matter where in the world they take place. Merkel did not condemn the United States for the event, instead she gave her condolences to the family of Heather D. Heyer, who was killed when a car plowed into a group of counter-protestors.
Canada – Prime Minister Justin Trudeau
Trudeau decided to comment through social media. He tweeted, "We know Canda isn't immune to racist violence & hate. We condemn it in all its forms & send support to the victims in Charlottesville.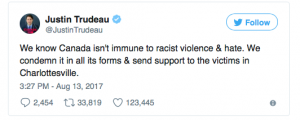 His response noted that the evils that caused the rally are found everywhere and that they must be denounced.
Britain – Prime Minister Theresa May
The British Prime Minister, Theresa May, released a tweet from the official Prime Minister account. The tweet read, "Our thoughts and prayers are with #Charlottesville. The UK stands with the US against racism, hatred and violence."

A spokesman for May was asked if he believed President Drumpf had a strong enough response to the events in Charlottesville. He responded by saying, "What the President says is a matter for him. We are very clear…. we condemn racism, hatred and violence. We condemn the far right."
Scotland – First Minister Nicola Sturgeon
The First Minister of Scotland tweeted: "There is no equivalence between Nazis who peddle hate and those who protest against them to defend tolerance of diversity."
Sturgeon also retweeted former U.S. President, Bill Clinton's, and Attorney General of Virginia, Mark Herring's, tweets about the protests in Charlottesville.